Workflow Automation Can Unlock a Better Employee Experience - Here's How

Rachel Greenway
Senior Copywriter
Last updated on 20.07.2023
When customers aren't entirely satisfied with a service, their loyalty is likely to shift (in some cases, quite swiftly). 
But what about employees? What happens when a job doesn't live up to their expectations?
It's no secret that a positive employee experience is critical to higher retention and lower attrition rates. But among the more obvious factors contributing to a stellar employee experience - culture, communication, engagement and opportunities for progression through sound performance management - digitisation has a surprising part to play. 
Automation, coupled with things like integration and analytics, can be a real boon for employee engagement, helping workers shake off the shackles of manual and repetitive tasks to discover more fulfilment, growth, and engagement in their jobs. 
All of this makes them much more likely to stick around (as we hope you will to the end of this blog).
All work and no fun makes manual workplaces a dull place to be
We hate to break it to you, but organisations that continue to champion manual work methods are becoming less attractive workplaces. And there's a simple reason for this.
Step outside of the office, and each and every one of your employees is a customer in the real world. All it takes are a few swipes and taps on their phones to do their shopping, banking, weekly groceries and so much more. 
In other words, employees are starting to experience the game-changing effects of highly automated, user-friendly customer processes within their personal lives, only to return to their desks where clunky tasks and finicky processes once more bog them down. 
And the numbers support this - in a survey conducted by SalesForce, 89% of full-time workers reported feeling more satisfied with their jobs when their organisation adopted automation.
The world is changing around us. But some companies are finding it difficult to evolve with it. Only when you start adopting new tools and technology do you unlock greater levels of engagement for your employees.
The job market is shifting 
Nowadays, people are spoilt for choice when it comes to choosing where and how they want to work. That makes it even more paramount for organisations to create a highly-automated work environment. After all, if your company doesn't fill this gap, other organisations will. 
The Great Resignation and subsequent migration to remote work have shown just how quickly the pendulum can swing in favour of employee wants. Gone are the days when professionals and workers alike will put up with fragmented procedures and work methods that just don't make sense. They recognise that in order to do their best work, they need a work environment where they can grow, thrive and be challenged daily.
Good talent is wasted on manual and repetitive tasks 
Dull. Drull. Mind-numbing. Yawn-inducing. There are many different ways to qualify all those manual back-office tasks that soak up valuable time for your teams. And the human mind is wasted on all of these. How will filling out one more spreadsheet or duplicating one more document get your organisation closer to its North Star? 
Streamlining workflows, on the other hand, like payroll automation, frees up your employees to spend as little time as possible on low-value tasks and devote more time to building better relationships, thinking critically, and using judgement to solve bigger problems. 
In short, their work becomes more valuable and growth-oriented, and therefore more meaningful to them.   
Whenever you have a task that must be performed on repeat, employee engagement and satisfaction decreases. Even if an employee does well with these kinds of tasks, opportunities to learn and grow become limited. Eventually, a sense of dissatisfaction, even failure, begins to set in. And that inevitably leads to that seven-letter word no manager wants to hear (b-u-r-n-o-u-t). 
In contrast, workflow automation opens the floodgates to innovation, creativity, empathy and adaptability - all qualities that boost morale and lead to greater job satisfaction.
The benefits of workflow automation beyond productivity 
Employees experience less stress and pressure 
Rooting out minor errors from administrative tasks, like payroll mistakes, is laborious and requires demanding levels of focus. Throw in other external stressors an employee might be facing - from tiredness, overwork, or their personal life - and you have the perfect recipe for human error. 
Workflow automation reduces the risk of inputting errors. And that, in turn, lowers the unnecessary pressure shouldered by employees. By letting automation do the heavy lifting, not only are you reducing the chances of errors made out of distraction or tiredness, but you're also removing that extreme pressure on employees to get it right every time. 
Staff feel more at ease and self-assured in their work. Who knew modern workflow automation would become a great stress reliever?
They become more empowered
On top of reducing unnecessary pressure and stress, automation and SaaS integrations bring a greater sense of clarity to an employee's role - something that's much needed. In a survey conducted by the University of Birmingham Business School, 40-50% of working professionals reported experiencing much lower autonomy than their managers at work. 
But this is something technology can quickly help solve. In other words, technology can empower employees. With clearly laid-out, self-efficient workflows, it's easier for employees to manage their tasks and responsibilities, granting them a higher sense of autonomy. And that means you can leave overbearing micromanagement and supervision in the rear-view mirror. 
Automating repetitive tasks also frees up more time for staff to tackle more critical challenges and problems. With real-time data and analytics at their fingertips, employees can make more informed judgements and decisions. And that equates to more growth for your business over the long term - a win-win all round. 
As Kajetan Von Armansberg, co-founder and co-CEO at our partners Leapsome, puts it, it's something to be grabbed with both hands.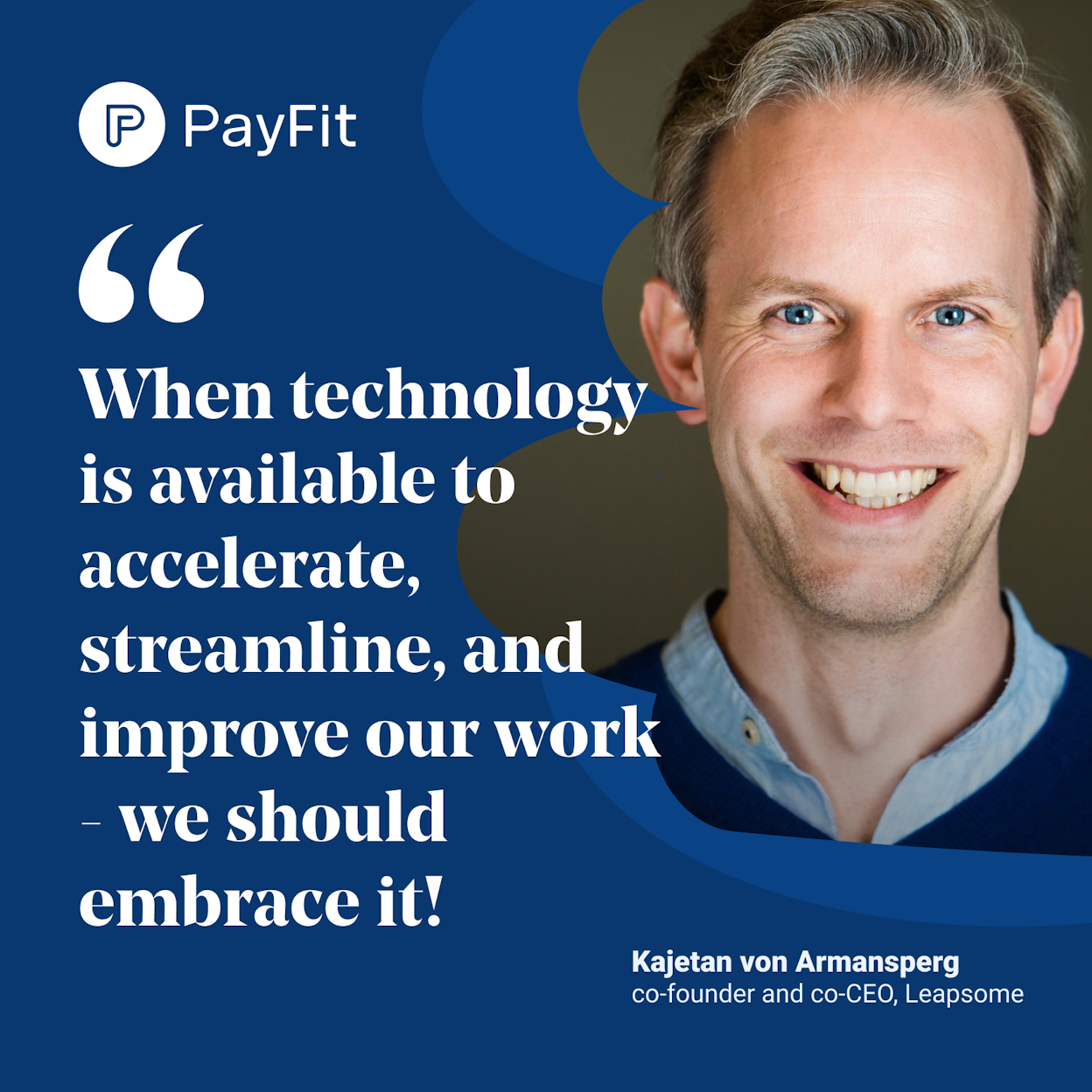 Automation improves communication and collaboration
From centralising data to simplifying how information is shared, both automation and integration can drastically improve how your employees communicate and collaborate. The outcome? Far fewer mishaps and disagreements, making your workplace a much more pleasant environment to be in. 
Automation, by its nature, encourages staff to cooperate better as it presents one single tool from which employees can draw information and track progress on tasks. In other words, no more heated debates about whose spreadsheet is the best source of truth. Employees can simply get on with their work in peace. 
But it runs deeper than this. Better collaboration leads to stronger working relationships which promotes a greater sense of belonging and togetherness for your staff.  
It supports employee nurturing and growth 
No more manual, repetitive tasks mean employees have more time to focus on honing their skills and professional craft. 
For one, automation makes training and development much easier to deliver. For new hires onboarding in their role, that could look like watching a series of online tutorials on how to use your company's payroll software. The more confident your employees are with using the tools and workflows your company's established, the more equipped and confident they'll feel to do their role.
Winning more time back also means staff can focus more on their professional development. Instead of wasting away completing one more tedious task after another, employees can enrich themselves by learning new skills that unlock greater creative thinking and problem-solving for your organisation. 
Employees experience more work-life balance 
Last but certainly not least, streamlining workflows through automation helps to reduce impossible workloads, ensuring your employees get the healthy work-life balance they deserve. 
No manager wants to be faced with a team of people that's tired, energy-drained, dissatisfied, and at high risk of turning over. In fact, new research by Glassdoor revealed that negative discussions surrounding burnout in the UK increased by 48% in 2022 alone.
Automation can help restore a sense of balance for teams on the brink of burnout, leading to greater fulfilment and engagement over the long term. You can find out more about the best tools and platforms for automating workflows in our HR software guide.