How PayFit Helps Improve Processes and Outcomes For Finance Managers

Oli Robertson
Content Marketing Manager
Last updated on 2.08.2023
The role of the finance team within a business has changed. Gone are the days of the department being one that simply completes processes, for example running payroll, paying suppliers or chasing invoices. 
The finance function is increasingly becoming a strategic, growth-driving outfit that is vital in shaping the directions that a business takes, one that requires core tasks to be streamlined or automated in order to free up the team's time for initiatives that will be more impactful over the mid to long term.
As a finance manager overseeing that team, your role has undoubtedly become more strategic still. In your quest for finance process improvement, you're constantly looking for ways to get better insight on financial data such as payroll reports, and uncover quicker and easier ways to source the (accurate) information you're looking for.
The key to improving finance processes and outcomes is having insightful data available at your fingertips, in a matter of clicks, that can be easily digested and presented to your superiors. That way, you can help shape the way that your business funds its operational and growth initiatives.
Driving radical finance process improvements is PayFit's raison d'etre. We help simplify the life of a finance manager by automating vast swathes of the payroll process, from actually running payroll each month, to creating a payroll journal that's in the correct format and ready to upload into your accounting software. We also provide a large number of pre-populated reports, accessible with a few clicks.
Below, we'll look at just how PayFit helps improve finance processes and outcomes for finance managers, from saving huge amounts of time to providing a level of insight and accuracy that was never possible with legacy, manual methods.
But first…
What are the common complaints of finance managers?
Despite being such a key component of most small to medium sized businesses, finance teams and the people who oversee them are frequently being held back by fixable problems.
Inefficient, manual, and time-consuming processes are causing inordinate amounts of stress for finance managers, as well as potentially impacting other areas of business. The act of improving finance processes has to start with understanding where your pain points are as a manager, and then taking the steps to address them.
It's likely that some (or all) of the following problems may sound wearily familiar to you.
Inefficient processes
If the word 'spreadsheet' fills you with dread, then you're not alone. Having to gather information manually from endless data exports, for example using formulas to exclude the specific information you're looking for and calculating everything manually (e.g.: the total amount of income tax or National Insurance owed to HMRC in a given month) is the very definition of inefficiency.   
Inefficient processes can be repetitive, frustrating, and time consuming. Subjecting a highly qualified and talented finance manager to too much work of this nature fosters a culture of burnout, as well as preventing them from doing the impactful, strategic work that will help the business grow. 
The act of improving finance processes begins with removing inefficiencies wherever possible.
Data errors
One of the consequences of inefficient and manual data entry, gathering and analysis is the high risk of errors. As a finance manager, having access to accurate data for reporting and budgeting is of the utmost importance. And if you can't guarantee that on a consistent basis, this leaves your business vulnerable to repercussions, some more serious than others.
These could range from wages underpaid to an employee, to paying an incorrect amount of tax to HMRC as a result of a mistake on your FPS or EPS, which could result in interest or a penalty charge being applied.
The majority of finance process improvement examples include a robust strategy to improve data accuracy across the team.
A lack of insight into or control over your data
Clunky spreadsheets and outdated tools or software will most likely not give you the level of granular insight you're looking for, or that your company needs to truly succeed. For finance managers that we speak to on a daily basis, reporting is everything. And to put together the most effective examples that will help drive sound strategic or budgetary decisions, you need a crow's nest view of everything.
This problem is multiplied when relying either on paper documents, or a third party provider - particularly when it comes to outsourcing payroll. After all, when you aren't managing something yourself, you're relying instead on somebody outside of your organisation to provide you with what you need. 
And even if they are able to get their hands on the right data for you, you might have to wait a while to receive it, especially if your contact is on annual leave or off sick. What's more, there's no guarantee that the data will be presented in the way that you had in mind, or that will be digestible by your superiors. So you'll need to spend needless time finessing what you've received anyway!
Fundamental to any finance process improvement drive is taking ownership of your company finance data, as this will provide the building blocks for every decision you make.
Inadequate tools and software
We've all heard the phrase 'a bad workman blames his tools', but in the often complex world of the finance manager, bad tools will nearly always mean that you do a bad job. Software or tools that aren't a good fit for your team or business will contribute to everything we've already covered above. 
With so many moving and interconnected parts - payroll alone, for example, needs to work in harmony alongside your accounting, pensions and HR workflows - it's imperative that the finance department has the tools necessary to sync and integrate seamlessly with each other. 
Finance integration will therefore be a key priority when it comes to driving improvements in processes and outcomes, as systems that talk to one another remove the need for double data entry, which is not only time consuming but further adds to the risk of mistakes happening as information is relayed down the chain.
Not enough hours in the day
Do you ever feel as if there's just not enough time to get everything done?! Us too. Well, not as far as our payroll is concerned, at least - we use PayFit of course! 
Feeling overwhelmed with reporting, managing budgets, analysing data, risk management, payroll, accounts and all the other things that come with being a finance manager is a direct consequence of inefficient, manual, error-prone ways of working. Basically, everything that we've covered in this section.
But there is a way to start to win back your time, and make space for those strategic growth initiatives that the modern finance manager role demands. And that is through finance process improvement that automates what can be automated to support your team to do its best work.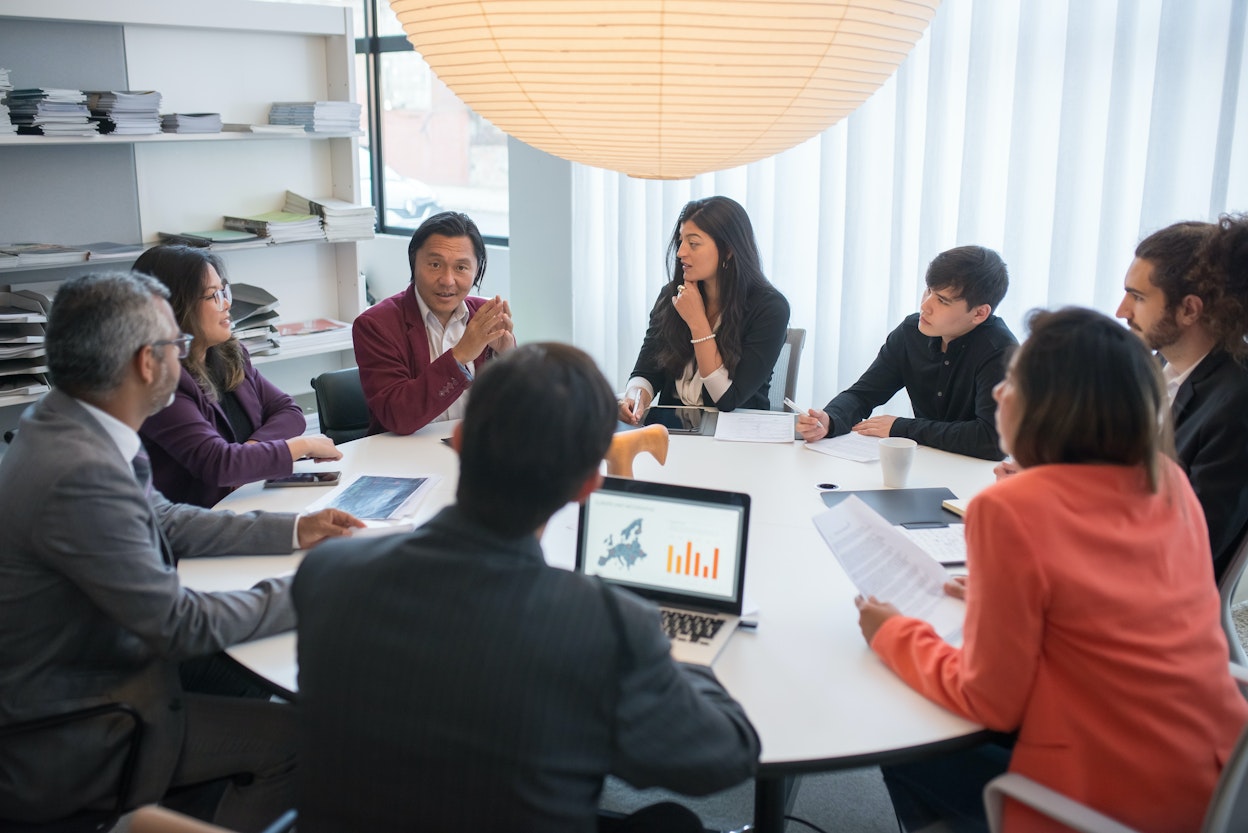 Which processes within the finance department need to be improved, and why?
By identifying areas for improvement within the following processes, finance managers can unlock significant value for both the team and the business. Central to all of this should be the goals of freeing up time for more impactful, strategic work, reducing errors, getting access to insightful, accurate data faster, and fostering a happier, more productive finance team environment.
The following are just a few of the finance processes that are crying out to be streamlined and optimised, and that will allow both you and the business to reap the benefits.
Budgeting and forecasting
As we've said previously, you shouldn't be relying on Excel for your budgets and forecasting. Specialised planning software can help you go a long way in making processes easier and less time consuming. When correctly implemented, it allows for more flexibility, as well as better security and cost savings compared to manual options. Software allows you to generate predictions and budgets quickly and with minimal errors.
Expense management
Reconciling expenses is a traditionally difficult, frustrating task for finance teams. The process of collecting receipts, reviewing expense reports, processing reimbursements and chasing employees to submit their claims on time is a nightmare for all involved.
A much better approach would be to streamline the process and integrate expense management with your payroll. A good expense management software will integrate with payroll software, and vice versa. Better yet, your payroll software will have an expense management module that means once an expense is submitted and approved, it will reflect automatically in the following month's payroll. And this is something that PayFit can do.
Accounts payable / receivable
It's important for your external relationships and reputation that suppliers get paid accurately and on time. You'll also avoid the risk of late payment fees. And no finance manager wants their carefully forecasted cash flow to be disrupted with a late payment, not to mention having to shoulder the burden of the AR department's stress levels. 
Automating these processes helps to significantly reduce the time associated with paying and receiving money. Your accounts team, rather than spending its time chasing payments or worrying about whether or not a supplier has been paid, can more effectively focus on data analysis and reporting. AR and AP software can support initiatives like assessing gross margin patterns and bad debt ratios, and forecasting how this could impact the business over time. 
Your team is happier and more productive, and cash flow looks healthier too. It's one of the most clear cut finance process improvement examples there is.
Payroll
A survey of 2,000 British workers found that around one in five has quit a job after being paid late or inaccurately by their employer.
This tells us that in order to retain their best staff, avoid the costs of unnecessary recruitment and training, as well as reduce mistakes, finance managers must automate payroll.
Automated payroll software has been shown to save payroll teams 80% of the time they spend managing it each month. This frees up time for more impactful strategic initiatives. It eradicates error-prone spreadsheets, removes the need for an outsourced accountant (and the time taken to get the data you've asked for) and allows payroll, HR and finance teams to do everything in one place - together.
Automated payroll software provides finance managers with more transparency and autonomy over their payroll data, helping them to make sound decisions based on accurate information, putting them in better shape for the future.
How does PayFit drive finance process improvement for managers?
We've helped finance managers and leaders revolutionise the way they oversee and administer payroll. At a very fundamental level, we can help teams save up to 80% of the time spent doing payroll and all of the tasks that come with it. Tasks such as calculating deductions and bonuses, creating and uploading payroll journals to accounting platforms, and the creation of P45/60/11D forms at the end of every tax year - historically very manual processes - are practically automated with PayFit.
The finance manager of today doesn't want to get bogged down in processes such as these for days every month. They want to click a few buttons, know that everything is being taken care of in the background, and have access to a wide range of all the most insightful reports and data sets at their fingertips.
And boy does PayFit do financial reporting well!
Our software comes loaded with a wide range of pre-built reports, for example gross / net salary breakdowns, pension contributions and required payments that need to be made to HMRC. These can be seen on either a monthly or by tax year basis, and are updated automatically every month - no need to calculate or run anything yourself!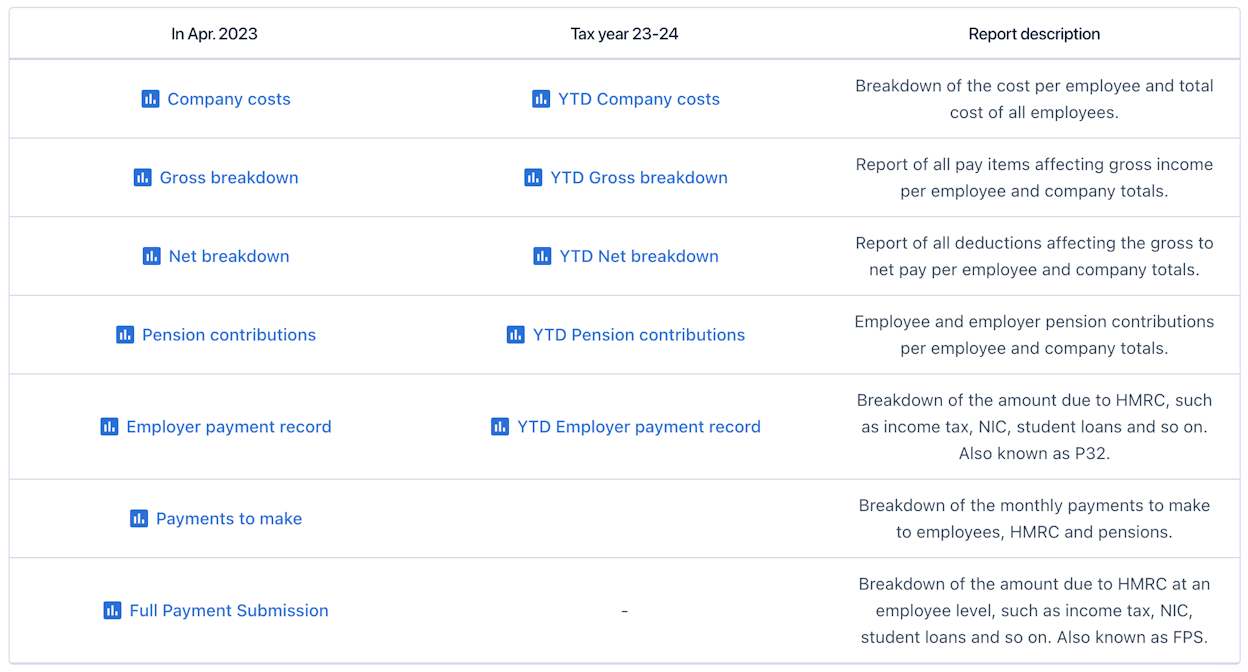 And for that extra degree of control and insight, our custom reports function lets finance managers build reports from a huge selection of dimensions with a few clicks, which can be run at any time in seconds, pulling data that would otherwise have taken much longer to find and export manually.
Charlotte Akehurst, head of finance at Wenham Carter Group, a specialist senior management recruitment firm, has reduced the amount of time her and her team spend on payroll by two days a month. This allowed her to focus on other finance process improvement initiatives, namely changing accounting software, a project that had been put on hold previously as there simply had not been time to look into it.
Another huge area that PayFit helps finance managers in is payroll journals. 
Charlotte would historically receive three or four PDF reports from her outsourced accountants, with the data rarely included in the correct order. 
From these reports, she would have to pull different numbers – e.g. commissions, deductions, benefits, pensions, etc. – to build her payroll journals. This used to take over two hours each time and the risk of error was high. Plus, because payroll was often having to be backdated, she would frequently have to amend past payroll journals – sometimes up to four times a month! 
This is now no longer the case. Through PayFit, payroll journals are created automatically each payday, and can be integrated with a good selection of popular accounting systems, meaning that they are in the correct format and ready to upload immediately. 
So instead of spending hours and hours each month, the whole process now takes just a couple of minutes.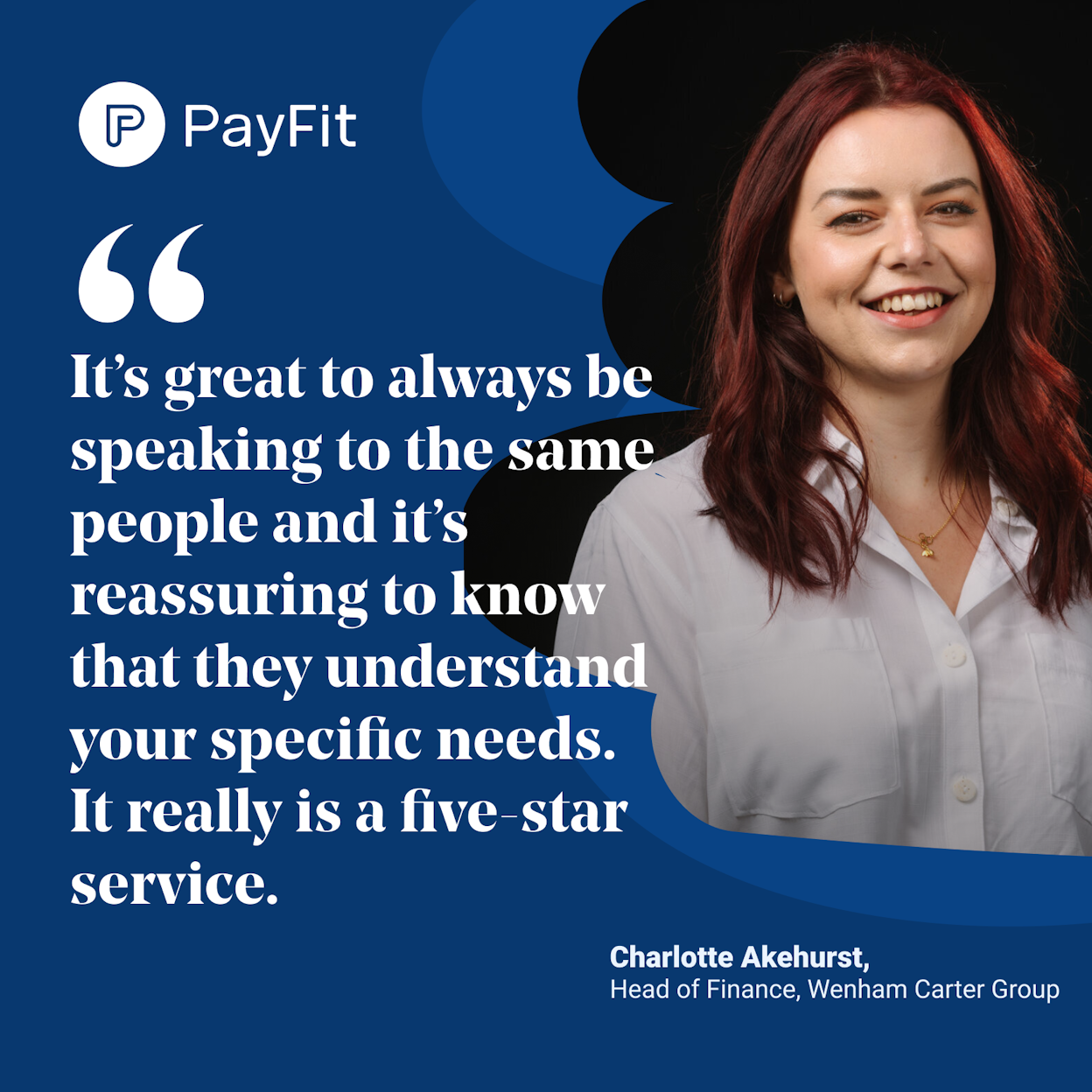 If you'd like to find out more about how PayFit can drive finance process improvement for your team and company specifically, why not book in a short demo of the software with one of our product experts and see it for yourself?