How to Use PayFit to Track Payroll Data

Rachel Greenway
, Senior Copywriter
Last updated on 29 November 2022
0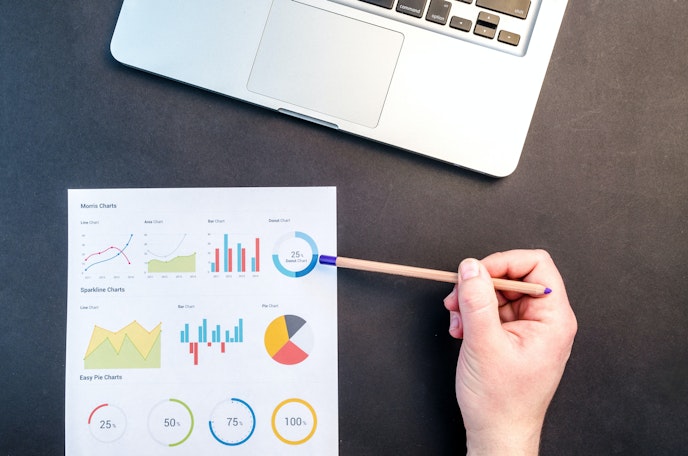 When it comes to payroll, businesses deserve full transparency and control over their data.
It's why reporting has always been an integral part of our solution. It also happens to be one of the features our customers rave about the most.
With hundreds of reporting dimensions right at your fingertips, there are a lot of different metrics you can track with PayFit. So we thought we'd provide a breakdown of exactly how our reporting function works and what you can do with it.  
Why track payroll data in the first place?
It should come as no surprise big data = big business these days. But your company doesn't necessarily need large volumes to benefit from analytics. It's what you do with data that matters. 
Whether you've got a little or a lot of it, taking the time to delve into your payroll data can help take the guesswork out of decision-making. It's the difference between an informed choice and a shot in the dark. This is especially true when it comes to making decisions about compensation.
Understanding your business better, reducing costs and sparking discussions among leaders is only the start - data can also help you find ways to engage disenchanted employees. Think about it: the more employees understand their pay and compensation, the more invested they'll be. 
There's so much information that's relevant to HR, finance and payroll professionals. Having the right tools at your disposal allows you to turn that data into valuable insight. 
Not to mention custom reporting - the thing you didn't know you needed (but more on this soon).
We break down PayFit's reporting feature 
So what are the best ways to track payroll data? Well, it just so happens we baked them all right into our platform.
In short, we put powerful reporting right at your fingertips. From general analysis through to forecasting, benchmarking, and workforce planning, you can leverage your best insights for business growth. We break our reporting down into preset reports, ones you can customise, and other helpful information (like payroll journals and payslip breakdowns). 
Here's a comprehensive overview of PayFit's reporting feature, along with a few tips for how your business can get the most out of it.
Custom reports
It's simple: any data that comes through PayFit can be pulled out as a report. In other words, you can run bespoke reports at any point throughout the month in just a few clicks. 
This just so happens to be one of our most popular features and a direct response to our clients' daily frustrations. Most payroll software makes it tricky or difficult to access data. Providers can also limit the number of columns (we like to call these dimensions) that you can add to payroll reports, and some only let you download data as a PDF (which can be incredibly frustrating). 
With PayFit's reporting feature, we've baked visibility and easy access to data directly into our solution.  
With over 319 reporting dimensions to choose from, you can analyse everything from salary increases to pension contributions, benefit costs, student loan repayments, cost centres, and so much more. You can also take one of our existing reports and customise it by adding more dimensions to it (see our hot tip below).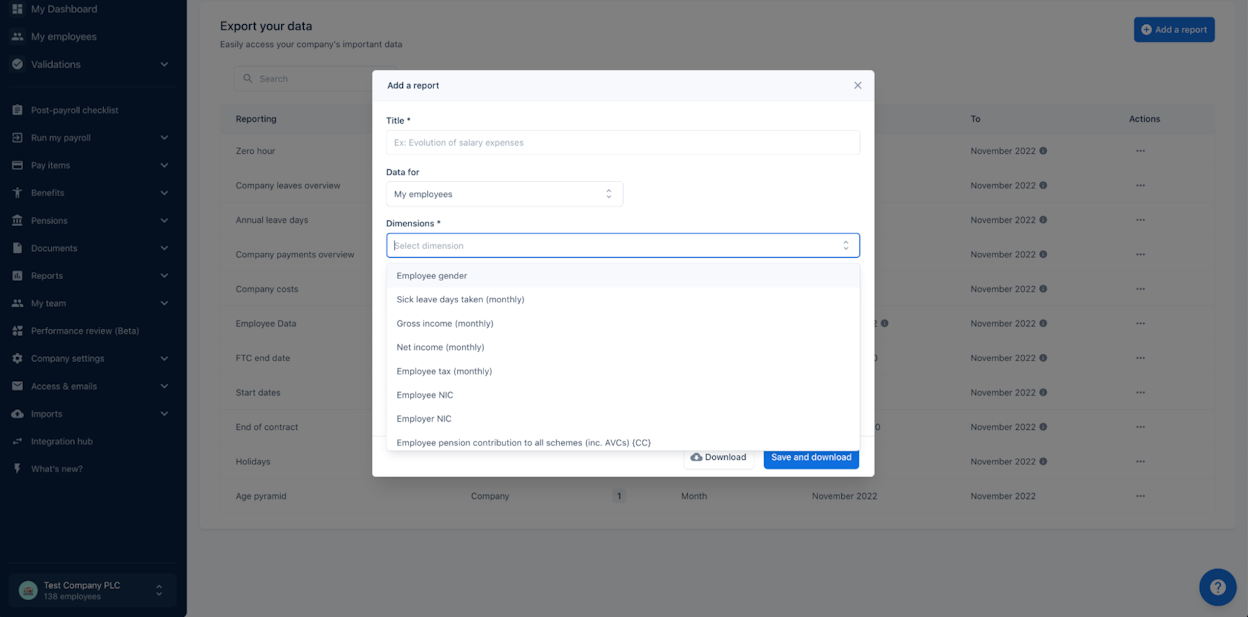 You can set any time period you like (monthly, quarterly or yearly). Results can also be downloaded as a CSV file, PDF or formatted to import into excel. 
Once a report is saved, it sits on your list of existing reports, and you can run it at any time again. The genius of this? You can preset any report you like to be part of your monthly admin. This is a great way to build up your monthly processes and make analysing payroll metrics a habit from day dot for your team. 
Hot tip: One of our most popular reports is the company overview, and for good reason. Instead of just using it on its own, many of our clients like to add in other dimensions. You can even re-order these to completely customise this report for your team.
Company reports 
Along with custom reporting, we've preset several reports your company can instantly access. 
Our preset reports include both required company declarations (e.g. the kind you need for HMRC) as well as other handy reporting templates for all sorts of internal needs. Track everything from company costs to pension contributions and payments to make or break data down into gross or net amounts. 
If you've not already cottoned on to this, you can take any report we've preset and further customise it to suit your needs. Add in different dimensions, change its name, shift the reporting period - whatever you want, you can do pretty much anything you need to to make it your own.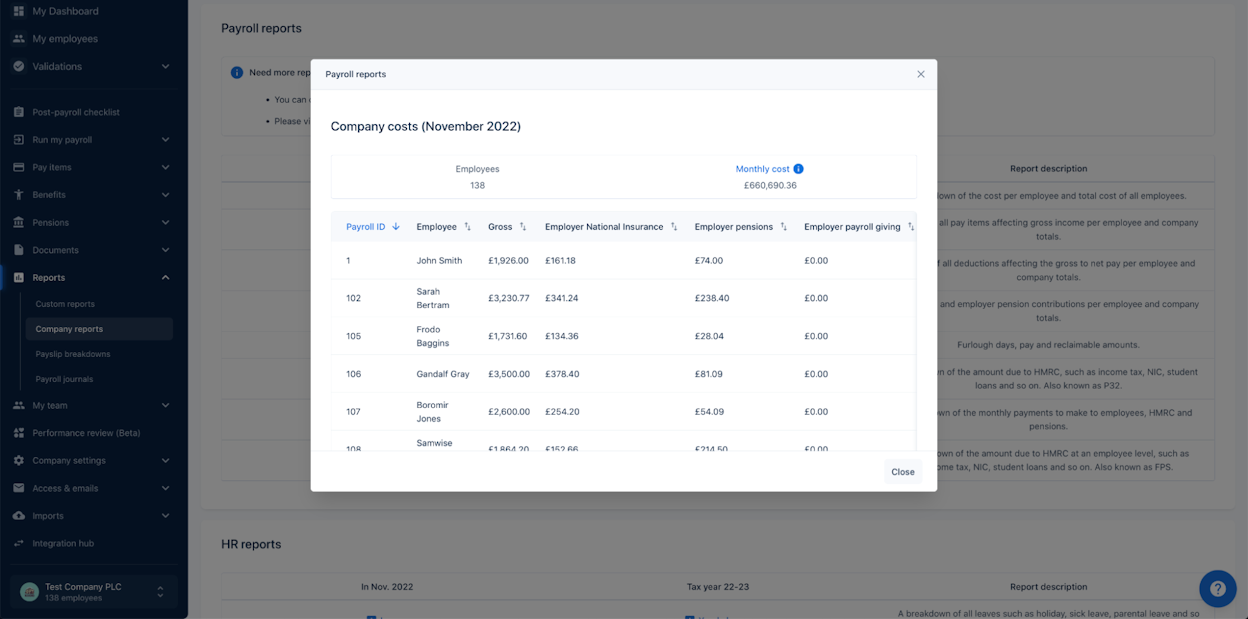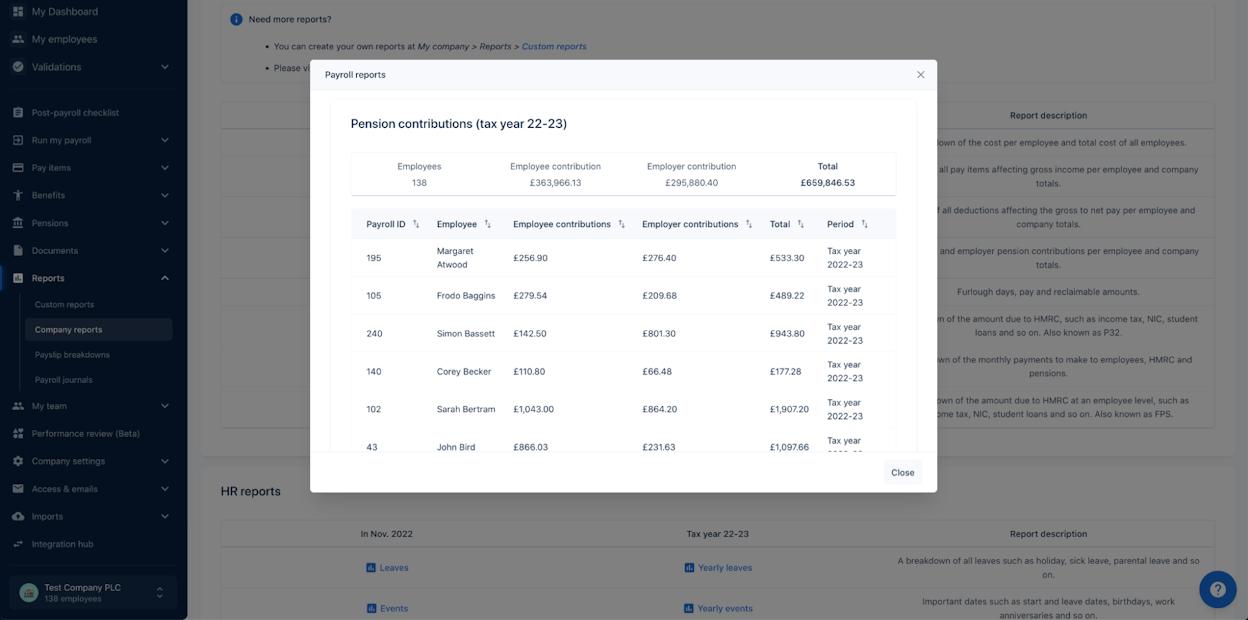 On top of this, we provide handy HR reports, like the Gender Pay Gap, as well as leavers & starters, salary history and events. 
If you're a smaller company, these can come in handy as you consolidate all your HR and payroll tasks in one place. If you're a growing company and already use an HRIS, then our reporting feature is still incredibly useful, offering additional transparency alongside other tools.
Other reporting tools
Along with our classic reports, there are other ways to review your payroll data. Again, all of this sits under our reporting feature for quick access. 
Payslip breakdowns 
Constantly fielding questions from employees about why they've been paid this or deducted that? In that case, our payslip breakdowns will come in incredibly handy. These breakdowns show precisely how all elements of an employee's payslip are calculated each month. Need to refer to past pay information? By adjusting the month in the top-right-hand corner, you can go back to a previous month and provide this to your employee. 
So if your employees are asking questions about their sick leave or how their taxes and National Insurance has been applied, you can easily answer their questions by referring to this section.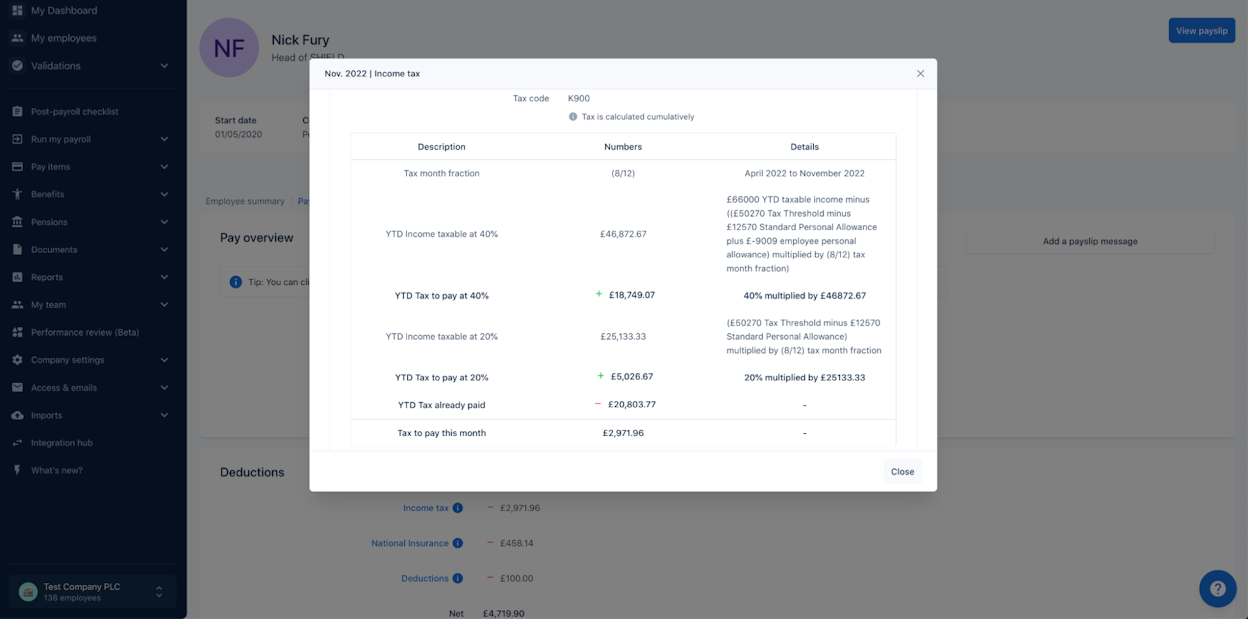 Payroll Journals 
Just like any standard accounting journal, our payroll journals simply break down wage costs and pay elements for salaries. That means you can accurately reconcile and account for all of the costs associated with compensation.
In PayFit, you can generate this type of file at both the employee and company level, again making it incredibly easy to answer any employee queries or those from your accountant. 
Payroll journals may not seem like 'reports' in the traditional sense, but they're a great way of visualising how different pay elements stack up. In other words, they collate a lot of data points you can then review for specific trends, patterns, and general analysis.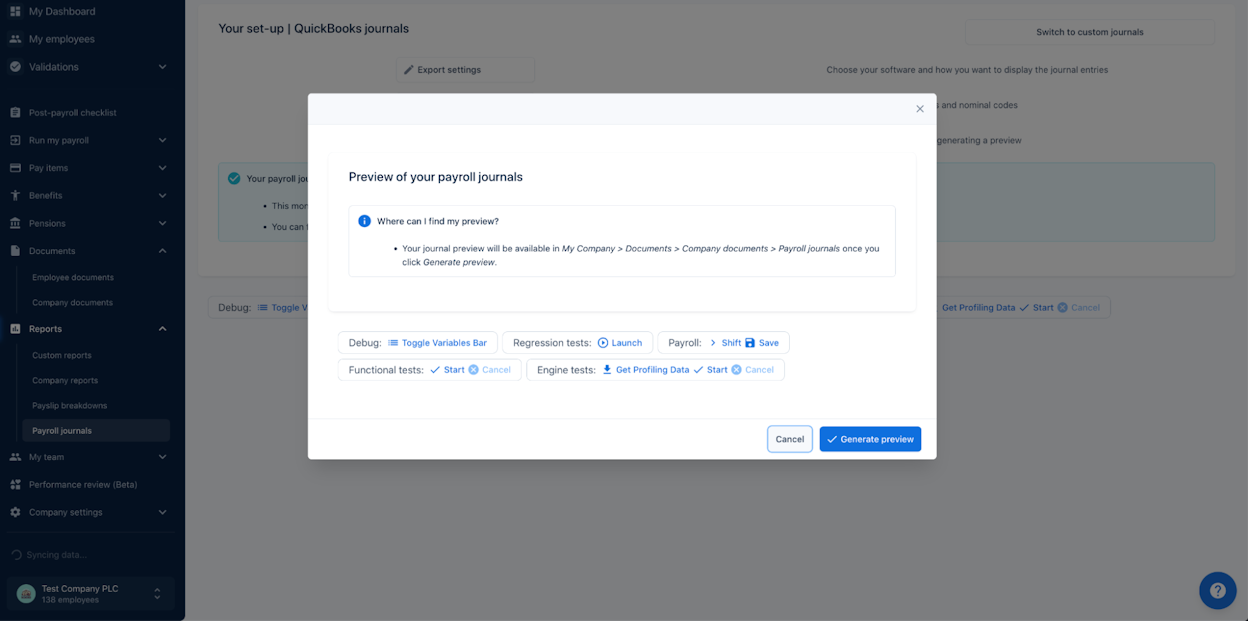 And last but not least…
Guess what? Your payslip is also a type of data report! That's right, even if you don't think about it in this way, a payslip can be an incredibly useful source of data for your employees and also a way to help empower them to better understand their pay.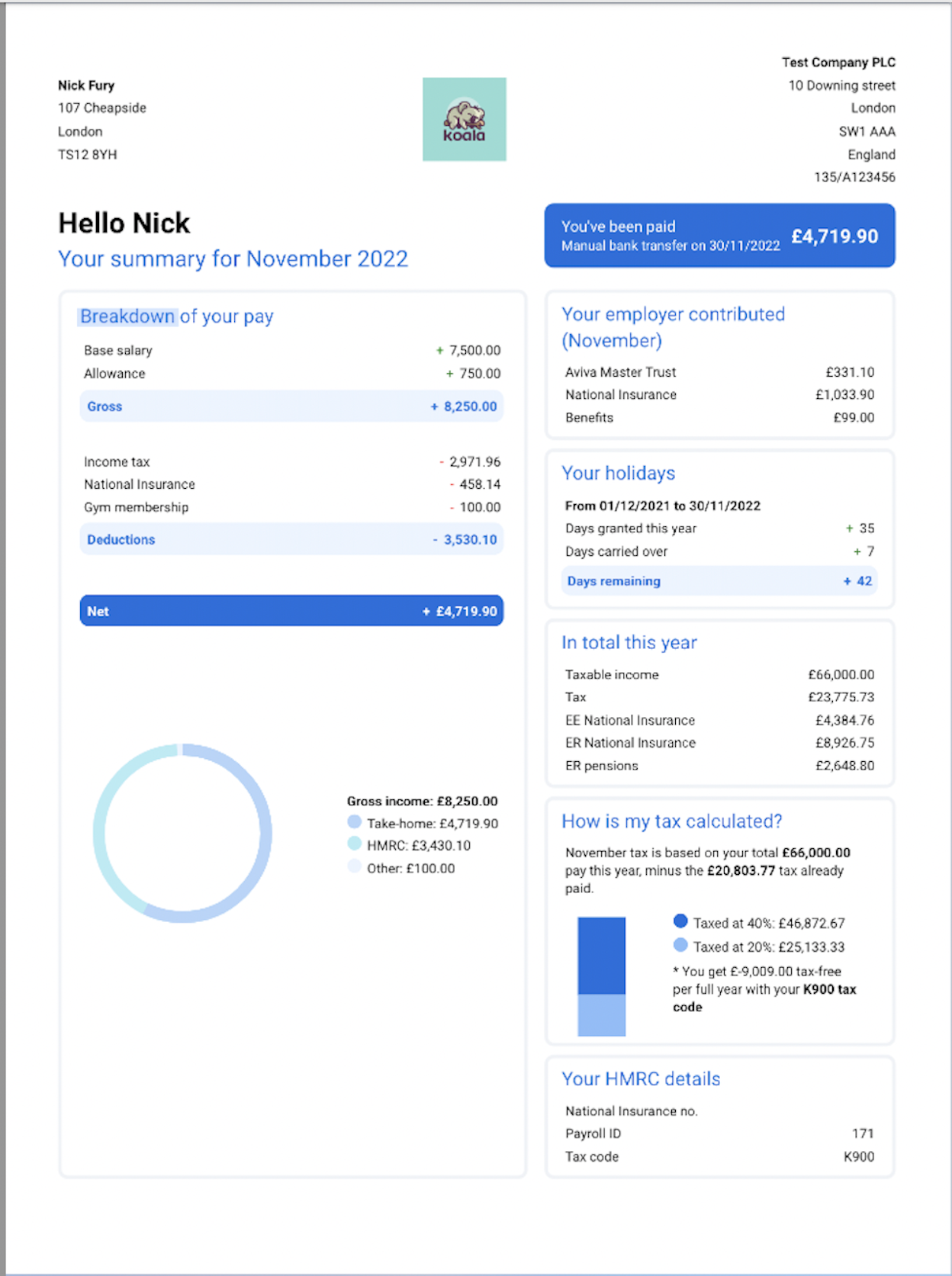 PayFit reporting 
As we've explored, there are several ways that PayFit makes reporting payroll data a breeze. Keen to get a closer look? Then why not sign up for a full platform demo with one of our friendly product specialists?
Book demo