HR & Finance Unite! How to Build a Collaborative Reward Strategy

Oli Robertson
Content Marketing Manager
Last updated on 29.08.2023
Let's come straight out with it - UK businesses are struggling to recruit and retain skilled employees. In fact, a staggering 91% are facing 'significant challenges' in doing so. That's according to a study released in July by Speakers Corner that was able to obtain the views of 500 UK business owners on the subject.
This trend has been exacerbated in the wake of the COVID-19 pandemic and the so-called 'Great Resignation' that followed. And whilst we're on the buzzwords, this means that a continuing war for talent is taking place between HR departments up and down the country, despite the ever-present danger of recession.
 A key tenet of attracting and retaining the best talent is to create a compensation (reward) strategy that sets you head and shoulders above your competitors. This way, you can positively impact a major factor for staff looking to seek pastures new, as well as provide hot prospects with more compelling reasons to come onboard.
Let's be clear here - we aren't just talking about salary (although this is definitely a core component of any compensation or reward strategy). A winning 'total compensation package' will propose salary bands that match or sit slightly above market rates, together with attractive bonus opportunities, incentives, creative leave options and other perks, not to mention clear communication and buy-in across the business. 
Some of this may sound expensive, and your budgets may not be as big as your competition, but there are ways to get creative with your compensation and reward strategy. After all, can you afford to lose your best talent, or miss out on attracting the best in the industry, when at least something could have been done about it?
In this article, the first in our HR & Finance Unite! series, we'll talk about how and why these two departments should work together to create a robust compensation strategy that benefits both employee wellbeing and your bottom line.
What's typically included in a compensation strategy?
A compensation (or reward) strategy is something that defines your methods of compensating your staff for their work. They take on many different forms, and can incorporate lots of different elements. Yes, salary is probably the first thing that comes to mind when thinking of compensation, but there are other tools at your disposal too (not to mention some pretty cunning and enticing ways of structuring salary itself). Let's look at some compensation strategy examples.
Salary
There may be other ways to foster great employee wellbeing as part of a wider compensation strategy. But money, as they say, talks. A particular remuneration figure may be the difference between getting that whizzkid new product manager to sign on the dotted line, and not. Likewise, the promise of a satisfactory pay rise could convince a disillusioned team member to stay with you.
Base pay - that is, the hourly or annual rate - makes up the bulk of the salary proposition, but there are other ways to create an attractive package to more successfully attract and retain, such as:
annual pay reviews: promising employees (or prospects) regular pay reviews will reassure them that the figure in the contract isn't set in stone forever, and that they will have the opportunity to negotiate an increase at a defined point down the line;

increases linked to performance: similarly, telling a member of staff or interviewee that their salary will increase if certain performance criteria are met can help foster a motivated, engaged environment within teams;
Bonuses & Incentives
Baking these into your compensation strategy can really help catch a jobseeker's eye. Structured in the right way, bonuses & incentives promote a degree of flexibility to your strategy, and can help you punch above your weight against bigger budget competitors. This is because you can keep your base salary (i.e.: your guaranteed outgoing) at an affordable level, but still motivate higher performance with the promise of a bonus payment as a result. In short, everybody wins.
Examples of bonuses and incentives to incorporate into your reward strategy include:
performance related bonuses: tied to individual or team performance;

overtime: this one makes a lot of sense to offer, as it means that you could make up any shortfalls in headcount with a bit of extra hours support, rather than filling a whole new role;

commission: usually tied to sales roles. Being able to offer a higher commission level than your competitors can often convince somebody to join you instead, even if your base salary rate is lower;

referral bonuses: very often, workers will be friends with or know plenty of others in their line of work, and so will be in a good position to refer new talent to the organisation. Promoting that they are able to do so, and get paid for it, is a great incentive for somebody to stay at or move to your company;

wider company bonuses: offering regular bonuses linked to, for example, company turnover, or hitting certain milestones, gives staff and prospects the confidence that they can top up their base salary, no matter what role they are in within the business.
Leave
The time your employees spend working can affect their mental health and wellbeing. This is why it is well worth offering, in addition to standard annual leave, additional ways for them to take a breather that doesn't eat into their allowance as part of your compensation strategy. 
This could involve initiatives such as 'duvet days' (a no-questions-asked day off that staff can request a set number of times in a year), or a holiday purchase scheme (option to buy additional unpaid annual leave).
Some organisations even offer unlimited annual leave, a perk that is sure to dramatically reduce your employee churn rates, and increase your attractiveness to job seekers.
Working patterns
Giving staff the ability to choose where and when they want to work (so long as they satisfy a stipulated weekly quota of hours) is a great way to show that you trust your employees and aren't an organisation that micromanages. 
A company that includes as part of its compensation strategy the opportunity to spend some months of the year working remotely abroad, for example, could help it pip competitors with bigger salary promises to the prospect post.
Training & Development
Offering paid-for training courses and development opportunities makes a great addition to any compensation and benefits strategy. These can be tied to your performance management and progression initiatives as a way of enabling your people to do their best work for you, as well as enticing job seekers looking to develop new skills and progress their careers.
Perks
This is quite a broad tenet of your compensation and benefits strategy - more so on the benefits side, but could well be the one thing that helps get a deal over the line, or keep hold of your best people. Anything that you offer and pay for your staff to make use of can be counted, including:
contributions towards commuting costs: in the hybrid world of work, this is a great way of encouraging staff to come into the office from time to time and enjoy the benefits of social interaction and working collaboratively. Commuting in the UK is expensive, so being able to subsidise this will surely help make you an attractive proposition;

funds to buy home working equipment: another one for the post-pandemic way of working, to be able to get support for items such as stand-up desks, monitors and laptop stands will reassure employees and prospects that they are in the perfect place to do their best working from home;

regular company and team socials: everybody loves a good knees up, right?! Getting a monthly budget for socials can help to alleviate one of the biggest costs of living - food and drink;

subsidised gym memberships: a healthy body promotes a healthy mind, so this is a no brainer in terms of employee wellbeing and productivity;

healthy food deliveries: another great way of promoting healthy habits at home or in the office. Walking in to find a freshly stocked fruit bowl, or having a veg box delivery land on their doorstep, will put a smile on pretty much any employee's face.
What is a 'total compensation package'?
The phrase 'total compensation package' refers to all the payments and benefits offered to employees and prospective talent. It consists of all of the elements we have talked about - base salary being the main constituent, and also incorporating bonuses, commission, development budget, leave and perks.
Read more about how to structure rewards and compensation for scaling businesses.
What role does HR play in creating a compensation strategy?
Mention the word 'compensation' in the world of work and instantly you think of finance and budgets. But HR has an integral role to play in the formation of a company compensation strategy. 
This is because its successful rollout will see you sew up several major objectives of your role. That is to say, improving employee wellbeing and performance, delivering higher retention rates and contributing towards successful company recruitment drives. 
It may be finance who defines what budgets you have to play with. But as an HR team it is up to you to put forward your proposals and make a business case for what you need. This is to help you achieve the wider company objective of creating a happy and productive workforce that is committed to doing its best work for you.
Which takes us onto our next point…
And what role does Finance play?
Whilst the driver of the components of the compensation strategy will be HR, it is finance who provide the overall budget to be allocated to compensation initiatives within the business. Finance will be heavily invested in the strategy as it progresses, assessing reports on the financial metrics by which HR's success will be judged i.e.: what percentage of new hires are agreeing to the advertised salary (and not negotiating upwards), how is the reward strategy translating into revenue, and so on.
Finance are the gatekeepers that enable (or otherwise) HR to roll out the strategy by which their success will be measured. And the two should absolutely be working together in order to create the best possible policy, as stated by Alex Bertin of our partners BambooHR below.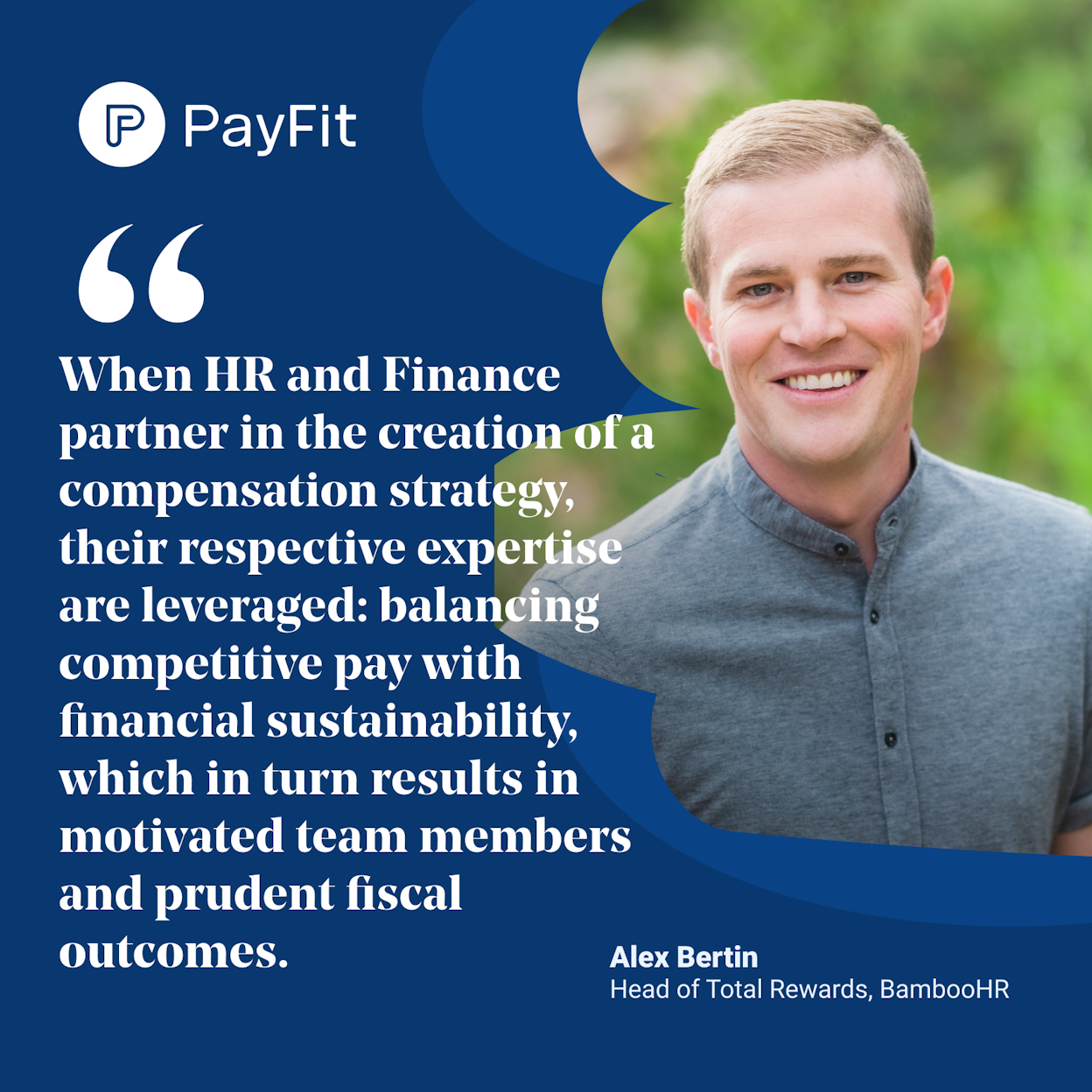 What are the advantages of HR / Finance collaboration in creating a compensation strategy?
Buzzword time again! The advantages of collaboration between HR and finance in creating a compensation strategy revolve around aligning on company priorities. That is to say, happy employees, a solid and growing bottom line, plus a healthy pipeline of the best talent to call upon as you scale.
There's also the fact that HR and finance are natural bedfellows; finance brings the strong analytical skills and data-driven insights that helps HR make informed strategic decisions around the merits of the various compensation structures we've covered already, and how they will impact upon the wider people strategy. In other words, HR is the ideas team, whilst finance will be able to use its skills to accurately say which of those reward strategy ideas can move ahead, and which can't.
From finance's side, collaboration between the two departments ensures that any compensation strategy will be aligned with the company's financial goals, and determines how exactly each different aspect of the plan will support those.
And if we look at it from the HR perspective, getting deeper insight on the numbers will allow them to better benchmark against the competition - and know exactly what extra elements can and can't be factored into the strategy.
Overall, by combining financial analysis with an understanding of employee needs, the resulting compensation plan will be far more comprehensive and well rounded than it otherwise might have been.
The steps to creating a winning compensation strategy
The most robust, well-rounded reward strategies will be rooted in research and analysis, ensuring that you stay competitive and attractive whilst adhering to budget constraints. 
Keep in mind some of the following steps to take when putting together your collaborative strategy.
Assess the roles you're looking to fill
It's no good coming up with a compensation strategy if it isn't aligned to the roles you're looking to hire for over the next 12 months. 
If, for example, you need to recruit for several sales roles, then you'll need to think carefully about your commission and bonus structures. You may be hiring for roles that require more travel into a physical office, in which case you might want to factor in some contributions towards commuting costs, a cycle to work scheme, or other incentives to travel. And if your roles will be mostly home based, think about what budget might be needed to help facilitate this, such as home office equipment.
Do your market research
Once you know what your recruitment will look like for the year ahead, it's essential to know how much the competition is willing to pay for similar roles, and what their wider compensation and benefits package looks like. In a highly competitive industry or role, you might want to price in an above market rate base, or up the other elements in your strategy. It all comes down to weighing up what others are doing and working together to get creative on how you can better that.
Consult your company values and culture
When it comes to your company values and culture, it's important that you're living by them throughout the entirety of the business. This is especially true of how you manage existing staff, and promote yourself externally to newcomers. 
Workplace culture plays a huge part in recruiting top talent. 90% of employers say it is 'very important' to find candidates who are a good cultural fit, and 73% of professionals have left a job because of poor cultural fit. So aligning the person with the culture is imperative for both recruitment and retention.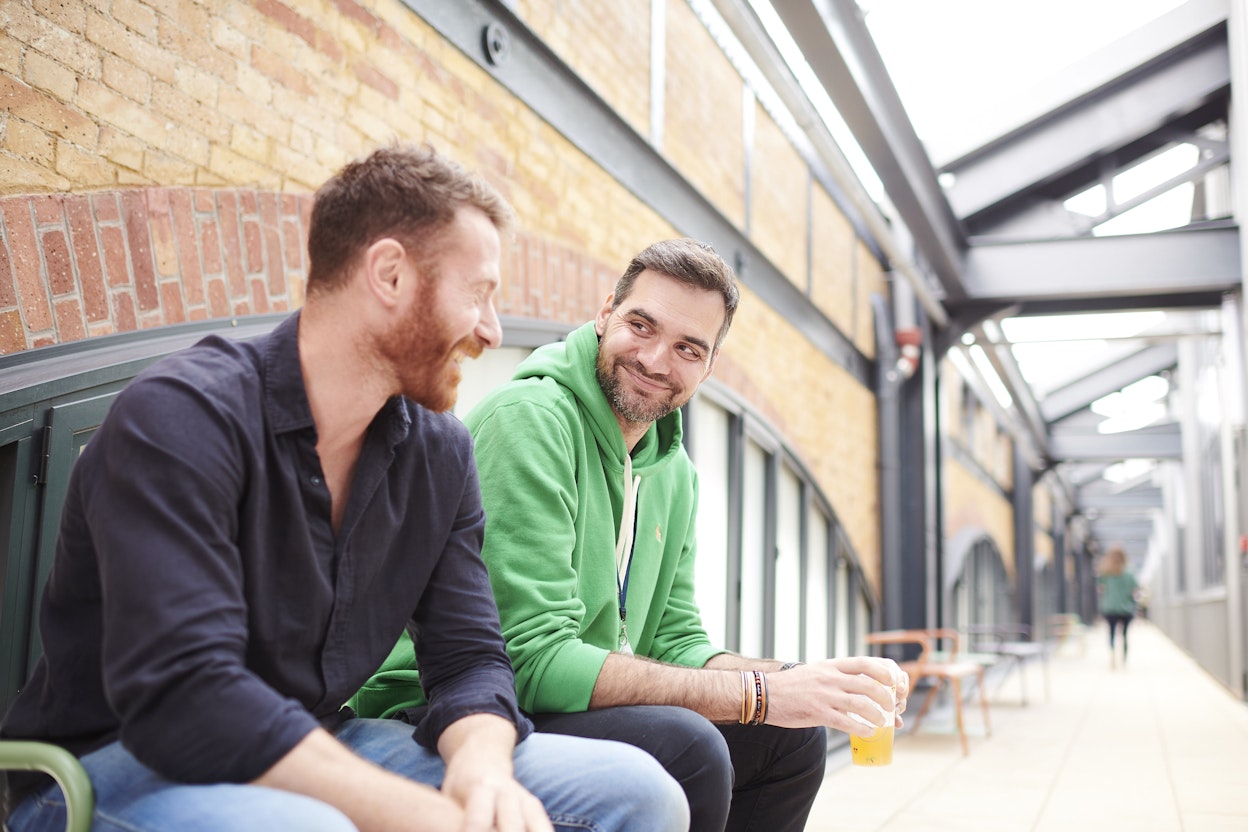 Check the budget
Finance will determine the overall budget - it's up to HR to take that and assess how it might best be used across a compensation strategy. And then, it comes back to finance to fine tune the numbers and percentages (for example, if 80% of the budget goes on the base salary, will 20% be better allocated to bonuses or split into four loads of 5% for travel contributions, gym memberships and a healthy food allowance? How will these support our people, and how will they impact the bottom line?)
Document and communicate
Back-of-fag-packet documentation won't work here. Once you've got your compensation strategy finalised, it will be hugely beneficial to formally document it, ideally as part of your company culture and values documentation, so it serves as a set of guiding principles for all recruitment.
For existing employees mainly, communicating this clearly through internal channels will help build excitement and buy-in, ensuring that all of those added extras are enjoyed to the full and nobody is left in the dark. Communication in this way shows that HR is serious about employee fulfilment.
Having clear documentation in place means that you can bring a level of consistency to job postings, as information can simply be lifted from the strategy. This helps to build external awareness around your offerings and put you front and centre of prospect's minds as they browse various job opportunities.
Evaluate and tweak
Don't rest on your laurels! Finance teams will want to constantly be evaluating the success of the reward strategy in terms of how it contributes towards the bottom line, whereas HR should be conducting regular feedback surveys to see what staff like, and what they don't. 
Whereas you don't want to be making constant reactive changes (company culture and values is all about consistency), you'll need to ensure that the plan is up to date against the competition, and that it meets the needs of your existing staff. So plan in (at least) annual reviews, with a higher frequency in especially fast moving industries.
To find out how PayFit helps HR and finance teams collaborate more effectively, with powerful reporting capabilities that give you insight on how compensation of all varieties is impacting your business, book a demo with one of our product specialists today.