Why Customer Support is a Key Factor to Consider When Buying Payroll Software

Rachel Greenway
Senior Copywriter
Last updated on 14.06.2023
Technology can do amazing things for your business. But no software is perfect all on its own. 
Don't get us wrong - there's a lot automation can do for your company (like helping you to save over 80% of your time processing payroll). But we're not ready for the robots to take over just yet! 
At PayFit, we believe there's no replacement for being able to speak to an actual human being behind the scenes from time to time - whether that's to help you set up your new software or learn how to use it more effectively. Of course, the primary goal of any software provider should be to ensure users can use their system independently. But knowing you can raise a ticket at any time - whether you have a payroll query or are stuck with a particular feature - makes a real difference. 
With this in mind, we wanted to share why we believe customer support should be a key factor to consider when investing in any new payroll software and how stellar service and payroll expertise are a major part of our offering.
Why is customer support so key to payroll software?
While customer support is an important factor to consider when investing in any new software, it's especially important in relation to payroll software. 
For one, payroll is a highly technical and complex area of business, especially when you consider all the legislation involved. Missing deadlines or playing 'fast and loose' with compliance can land you in hot water with costly HMRC fines and penalties to pay. Some payroll platforms are designed a little better than others to include features that ensure you remain compliant when processing your payroll, as well as being aligned to standards set by bodies like HMRC and The Pensions Regulator.
Still, having access to behind-the-scenes payroll experts can help you tackle any unforeseen issues that come up when using a new system to process your payroll - or indeed at any time. Put simply, it means you're not left to figure out the solution on your own - especially if it involves a certain level of payroll compliance or legislative knowledge you don't have on your team.
Having access to real payroll expertise also typically means you'll get knowledge you can tap into at any time. As a plus, most software packages these days give you access to an online knowledge base or Help Centre (including our own); here you can search for answers to questions you might have or digest content published by internal subject matter experts. 
Onboarding is yet another aspect where having access to good customer support can make a huge difference. Implementing any new system - even ones that greatly simplify existing processes - is a challenge. It can take time to get things right. But with payroll software, having access to good customer support provided by internal experts can greatly speed things up. 
At PayFit, we deliver a very clear cut onboarding experience. New clients are guided through each stage of the setup process by our internal experts, to ensure all existing data is transferred seamlessly and that our software is set up correctly in a way that's tailored to cater to your business' needs. Plus, our specialists can actually help identify areas where you may have been processing something incorrectly with a previous provider or software, and ensure this is addressed moving forward.  
Finally, good customer support is essential when it comes to training in new technology. Any new software comes with its own learning curve, regardless of how simple and user-friendly it is to use. Having a behind-the-scenes expert who can show you and your team the ropes, including how to use features you'll be using on a day-to-day basis, will make for a much smoother onboarding process.
Non-localised vs. localised support: which should you choose?
One major factor to consider when assessing the customer service a specific software provider can deliver is whether or not the support is local. 
While many providers say they offer access to 'local' experts, in reality these 'experts' could be based in another country or region entirely. If this is the case, they may not have experience with UK payroll. Non-localised support can also mean slower response times due to time differences or case loads. 
Outsourced payroll customer service also means users are left to email or call a generic customer service number when they are floundering. This causes huge delays and can often impact that month's entire pay run if the query isn't resolved in time. 
Not only is PayFit HMRC-recognised, which gives our users peace of mind that they're using a software guided by UK legislation, we only employ payroll customer support experts who have first-hand experience processing payroll here in the UK. Most of our team are based in the UK.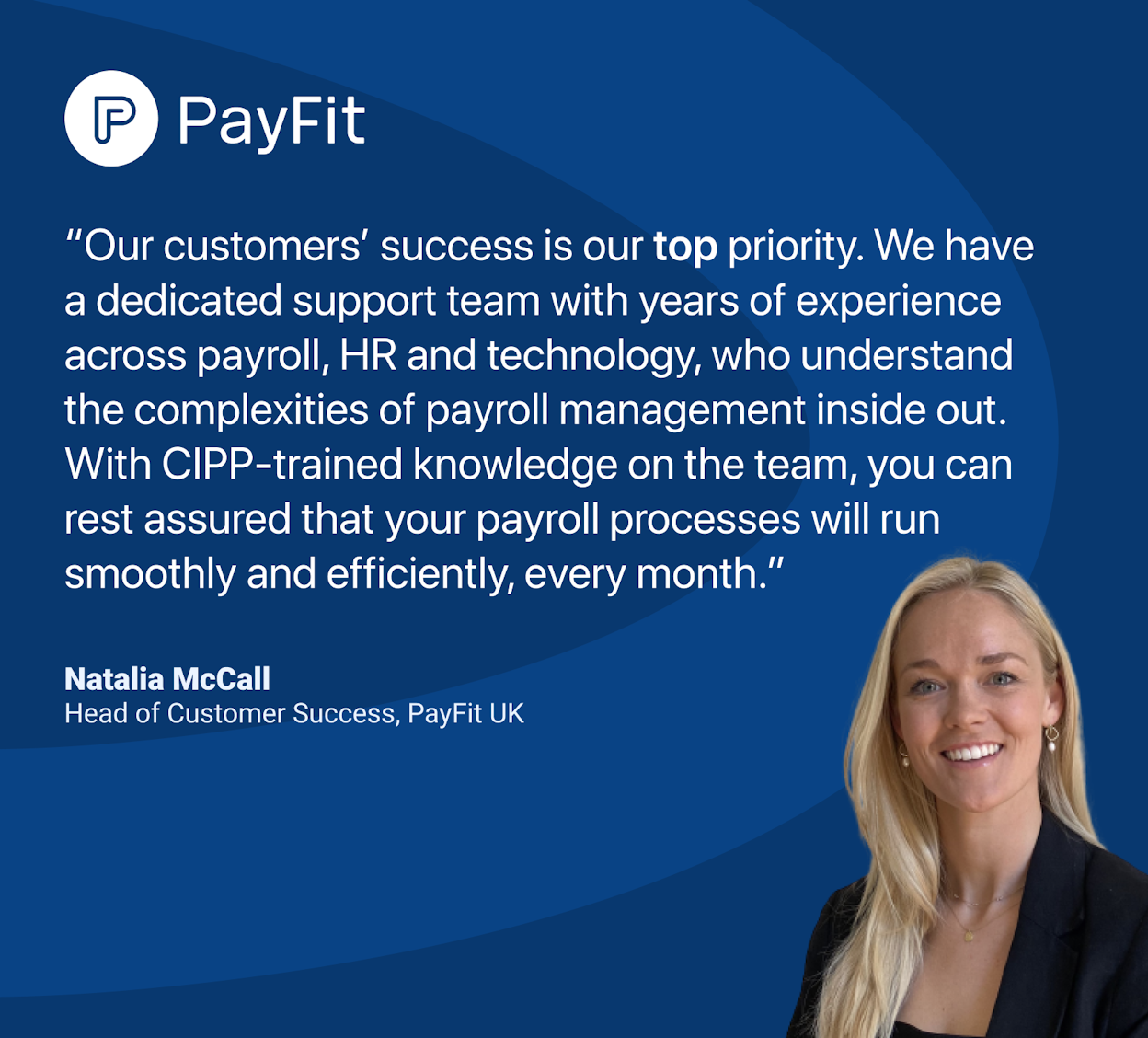 What happens when you don't have access to good support?
While it's possible to implement new payroll software without adequate support, it's likely to take more time to get right. 
Onboarding 
Onboarding can be especially challenging without the right experts there to hold your hand, especially if you're not already familiar with how the system works. If there isn't anyone there to deliver an initial training session in how a specific software works, you'll be having to figure this out yourself. That could add hours, even days, to the initial set up. 
Troubleshooting
Troubleshooting also becomes ten times harder. Imagine having to resolve an issue that risks holding up this month's payroll when you can't easily get hold of someone at the software company? Payroll softwares providers that are understaffed or don't have a clear process for fielding customer queries make it a lot harder for customers to get an answer to their query in a timely manner.
Making it work
The outcome? Without adequate customer support to fall back on, it becomes a lot harder to stick with a new software you've just adopted, and a lot easier to slip back into old working processes (that weren't serving you in the first place).
Why
raise-a-ticket

systems are better than customer service numbers

One question we often get asked is why we don't offer a customer service number or direct line to our experts. 

Seems counterintuitive right? In reality, directing our customers to raise a ticket rather than picking up the phone means we can serve our customers much more quickly and efficiently:
For one, it leads to much quicker response times. Receiving a ticket allows us to first prioritise or 'triage' requests so we deal with the most urgent requests first (which means no being placed on hold with awful 'elevator' music). 

Raising a ticket also allows our Customer Care Representatives (CCRs) to work across multiple queries at the same time, another thing which can help speed up turnaround times. 

This also leads to better collaboration as more than one team member can be invited to help out on a query - say from the customer or product team

Because every answer is documented, answers to more common questions (with simple fixes and answers) are then automated. The result? More time is dedicated to complex or urgent cases that come through. 

Finally, support ticketing systems are much more confidential than hotlines as they allow you to raise a query privately and quietly. That's an important consideration when dealing with confidential information in a not-so-private work setting such as an employee's salary.
PayFit: where technology and expert knowledge come together as one
Customer support plays an important role in what we offer here at PayFit. While first and foremost a payroll software, we understand that most small to medium-sized businesses often don't have payroll expertise they can tap into internally. And so we've incorporated this at every stage of our product development.  
Part of our mission is to fill in those gaps by providing that expertise right at your fingertips. 
Designed with the non-expert in mind
To start, our software is designed with the non-expert user in mind. We make what's normally a complex business function simple with features such as our six-step Run My Payroll process, plus benefits you can process in minutes. 
HMRC-recognised 
Further to this, we involve real payroll experts at every level of our product development to ensure we continue to provide a payroll solution that's fool-proof, easy to use and, most importantly, compliant. This standard has allowed us to remain one of the few payroll softwares here in the UK that are HMRC-recognised. 
Always on hand to help 
Finally, we understand the value of providing real human payroll expertise at your fingertips. We offer a range of packages that allow you to choose the level of customer support that's right for your business. 
To find out more about these packages, and whether PayFit's the right solution or your business, book a tailored demo with one of our dedicated product specialists using the button below.