The art of connecting with Generations Y and Z (Part 2)

Chloe
UK Marketing Manager
Last updated on 21.10.2019
In our previous article, we discussed how employers can help connect with generations Y & Z. We also looked at the importance of team activities and corporate volunteering.
In this piece, we provide our top-three tips on how to plan team events and keep employees engaged.
What was discussed in part 1?
How to get the best out of younger generations and the importance of providing team-building and corporate volunteering activities to employees.
Employees, regardless of their generation, want to take part in meaningful company activities. The research shows that forging friendships is also important to employees. Think of your team as a tribe (we know tribalism doesn't always draw positive connotations) but it's a primal instinct to want to work together, play together and grow together.
Go for the slam dunk!
You've set your sights on developing a series of social events for your team. You know what type of events you want to hold and you're ready to activate your plan.
Whoa, whoa, whoa, easy there young Padawan! Take a step back, and don't rush into anything.
The last thing you want is for your event to end with a whimper. This is not the type of project that you can do on your own. You need to make sure everyone is happy with your ideas and you have to give people the chance to pitch their own to both you and their colleagues.
The best part about including your team in the decision-making process is you'll have advocates from day one. If you haven't consulted with your team already, go back to the drawing board.
Once the event has been agreed upon by team members, the next step is to plan it out and send out regular communications and updates. Your social event, just like any other form of event, relies on creating excitement and keeping people informed.
A study by Vogelsänger Studios revealed that when asked what a team event should include, team-building activities came up first, closely followed by food.
So, make sure the food served at a team event is of a high standard. According to the study, food was the principal reason for dissatisfaction. When employees were asked what they didn't like about their last corporate event, the most frequently cited items were food, organisation and location.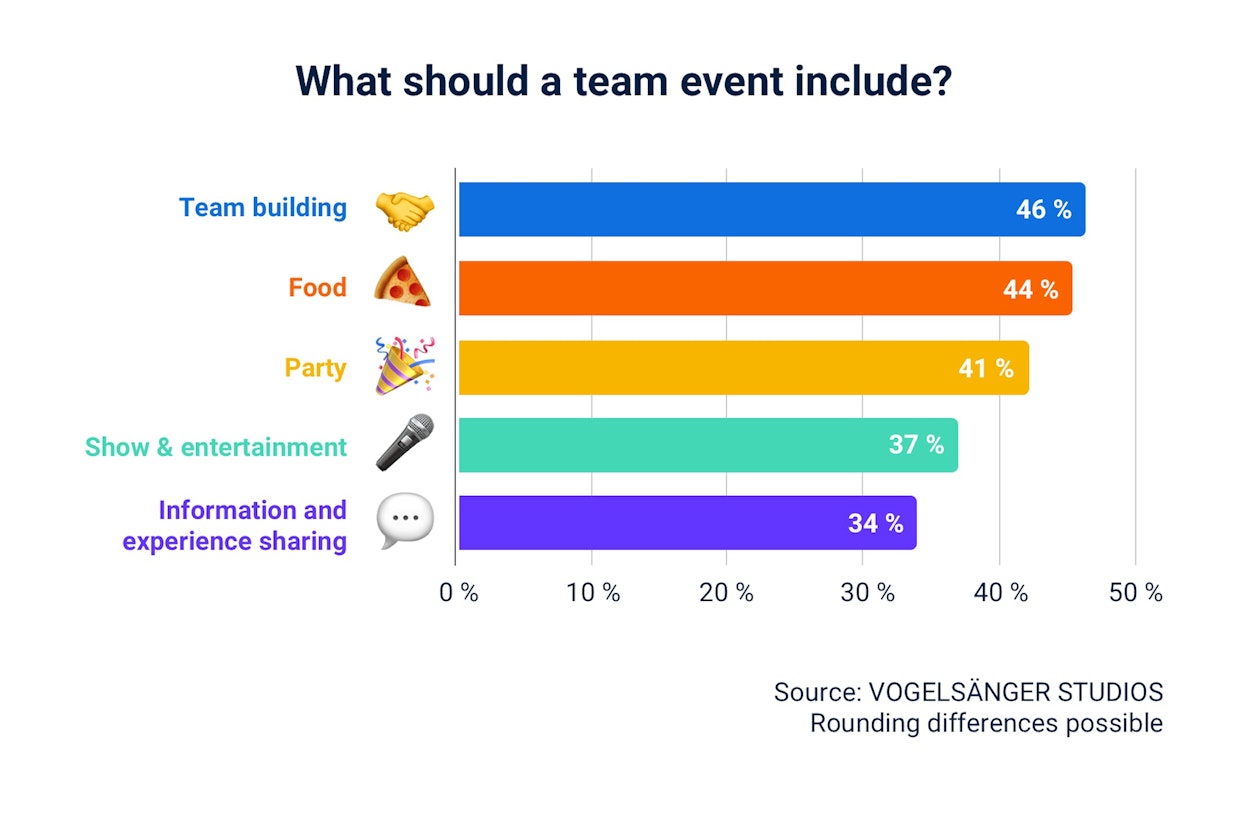 Social events need proper planning to guarantee success. No matter what social activities you dream up — a shared meal, as well as regular get-togethers, should always be part of your plan.
To help, we've listed a few tips to help you get the most out of your team-building strategies.
1. Be inclusive
Let your team have a say in the choice of the team-building event. By giving your employees the opportunity to make suggestions and vote on them, you will increase the likelihood that they will have positive thoughts about the event.
For our summer party this year, we asked all PayFiters what kind of team event they wanted to take part in with our Global Happiness Manager collecting and evaluating them.
The *sensible* ones were then put on Slack so that the team could vote for their favourite using emojis. If you haven't already noticed, we love a good emoji here at PayFit! 😉
2. Time it right
While millennials are more accepting of mixing work and private lives, gen zers believe that these two elements must be kept apart from each other.
This means that team events should take place within working hours if possible. Weekend trips away won't cut it here, but a three-day offsite activity that takes place during the week will get your staff excited!
3. The early bird catches the worm
Social events need to be booked months in advance. Not only does this help with planning, but it also increases the likelihood of you securing your desired dates and destinations.
The earlier your employees know about your event, the easier it is for them to make arrangements and schedule them in.
This removes the risk of the event clashing with holidays and other commitments. Let's face it, we all like it when there's something to look forward to!