> 

Cashflow

 > 

Financial data in a startup
How to master financial data in a startup

PayFit
Last updated on 20.09.2020
Proper data management can help a business optimise its processes and improve its long-term planning. But how can finance managers in startups measure company performance through data?
We sat down with Dan Hully, co-founder and CEO of Quantico, a company that specialises in providing in-house finance teams to rapidly scaling businesses, to understand how startups can help master financial data.
Why is good financial data so important? 
The coronavirus pandemic highlighted the importance of reliable financial data. With many companies facing difficult decisions, finance managers have been relying heavily on data to help ensure they are making the right choices. 
While more established organisations already have sophisticated systems in place, smaller companies, including early startups, may struggle to implement robust financial processes—particularly if there's little or no prior knowledge on the subject. 
Not having these processes in place can leave startups in a precarious position. When looking to raise capital, one of the first things that investors will look at is whether or not a company can provide trustworthy and reliable financial data. 
By closely monitoring key metrics, monthly reporting and other important KPIs, finance managers can build a picture of the company's real-time financial health.
Discover five ways real-time financial data can improve business performance.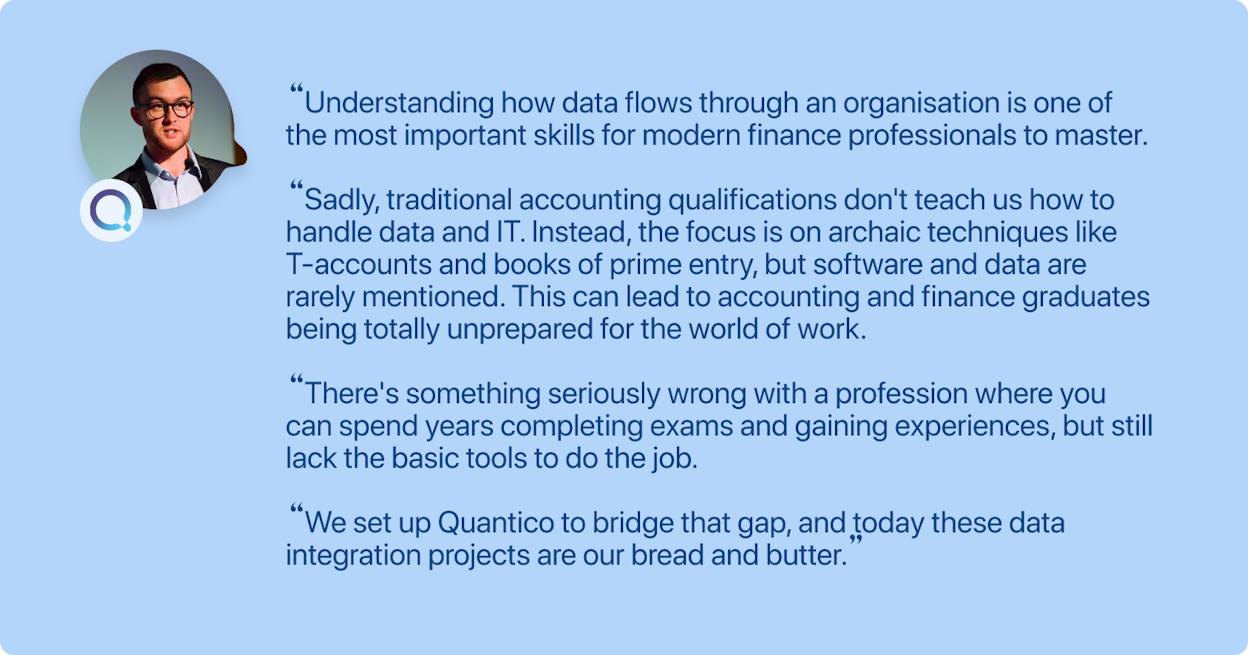 Which financial metrics should be measured?
Businesses at varying stages of their development will focus on different metrics. 
Typically, small businesses at the beginning of their journey will focus on revenue, gross margin and cash burn. 
Revenue
While it may seem like an obvious choice, far too many companies fail to delve into the intricacies behind their revenue. 
However, by analysing data and recognising periods in fluctuating revenue, finance managers can help build a picture of their company's financial health.
Gross margin
The common mistake that many startup founders make is to underestimate the importance of gross margin on their business.
Many choose to focus on achieving a healthy operating profit or high net income straight away; however, these are not necessarily the most important metrics to monitor from the off. 
Gross margin is not easy to improve, which means that it is vital that the factors affecting it are identified at the start of the journey. 
Cash burn
Startups very rarely start making profit straight away; nevertheless, even if they are operating at a loss, cash burn must be monitored to ensure that it doesn't snowball. 
Cash burn should be compared to the overall business plan and, while it can be offset against any capital raised, there should always be a concrete plan on how to reduce and turn it to profitability.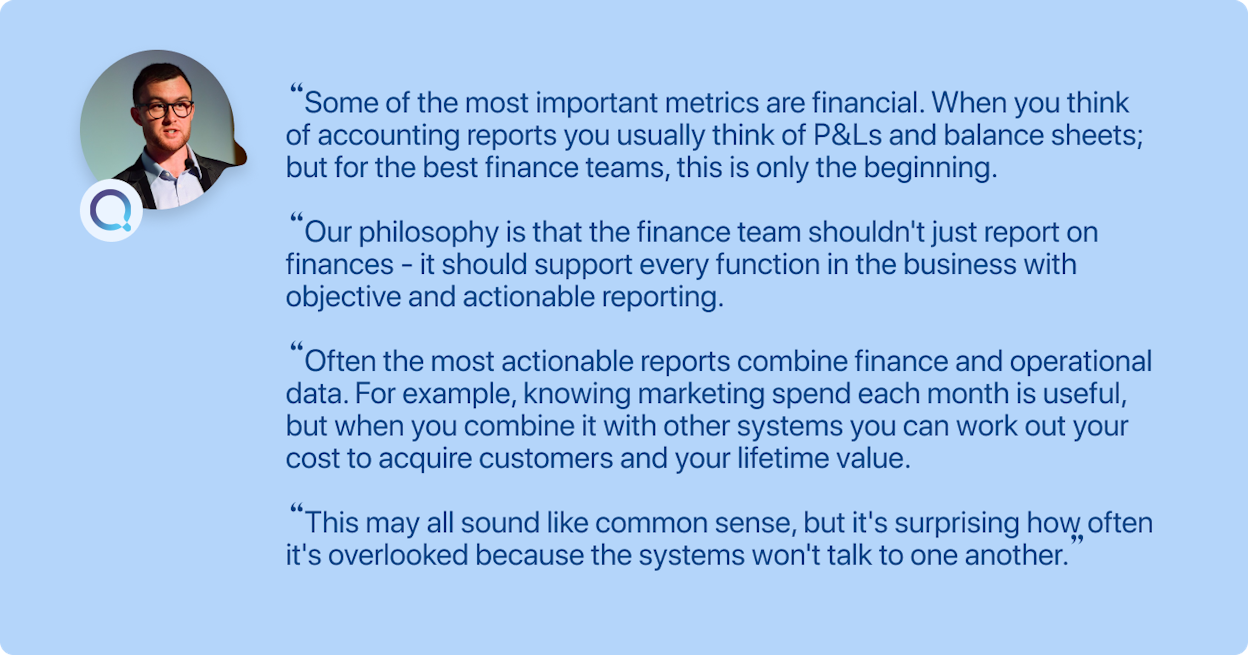 Financial data and long-term projects
Long-term stability cannot be achieved without good financial data. Analysing and recognising the historical evolution of revenue and profits can help finance managers to more accurately predict a startup's journey and build a realistic and accurate business plan. 
Analysing data on a weekly, monthly, seasonal and yearly basis, allows finance managers to identify trends in the data and to accurately model or remodel forecasts.

What are the primary data management pain points? 
Unsurprisingly, one of the major pain points in data management is collecting the right and relevant data itself. Although collecting and analysing it is not easy it is crucial in ensuring that a business can grow and develop and make considered data-driven decisions. 
But even then, implementing a "data culture" within a company can be easier said than done. 
While finance managers may be number-crunchers who have stats and facts to back up their opinions, lots of other areas in business are reluctant to rely on data in this way.
Getting these people to understand the importance of data is essential in allowing businesses to adopt a more data-driven approach.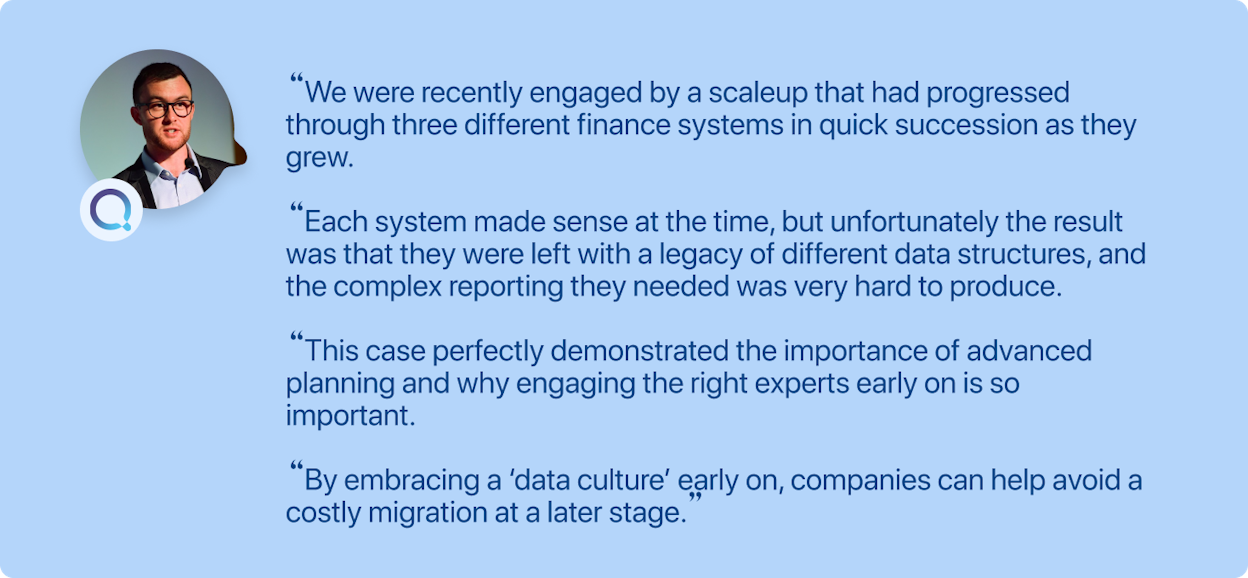 Useful tools for data management
There are quite literally hundreds of finance tools available on the market.
Whether it be Tableau, Microstrategy, Qlik, or even Looker, there are lots of tools out there that can help businesses to manage and analyse their data. 
Different tools suit the needs of different businesses and for young entrepreneurs, it can sometimes be difficult to understand which one is best suited to their business model. 
By approaching the right people and analysing the pros and cons of different tools, companies can be supported when making decisions and ensure that they set off on the right path.