Get in, get going! It's time for your business to join the fitness revolution

The march of the unstoppable fitness craze
The health and fitness industry is rapidly growing and, for the first time ever, its total market value exceeds £5 billion in the UK.
Despite this, a recent report by the Eurobarometer on sport and physical activity showed that while the UK is not doing too badly when compared to other European countries, 37% of us said that we never exercise or play sport.
This is a worrying stat, particularly as Public Health England found inactivity costs organisations with more than 1,000 employees around £126,000 per annum in productivity rates.
Being inactive is taking a significant toll on people's health and wellbeing, and there is evidence to suggest that exercise can limit work absences through a reduction in back injuries, stress, depression and anxiety.
On your marks!
Managers play a key part in the promotion of physical activity in the workplace. It's time we stop faffing around - so, grab the bull by the horns and actively promote fitness in the workplace because, after all, without our health, we're nothing!
While we may spend most of our waking lives at work, we do little in terms of physical activity there. We're often all too happy to dedicate time to weekly meetings and lunch breaks, but how about focusing some of that time on fitness instead?
While this concept may seem a little out of place amongst the corporate culture that exists in the UK, in other countries, the idea of promoting physical activity at work is one that is actively (excuse the pun) encouraged.
In Sweden, for example, some companies go as far as to include clauses in their employees' contracts that state that they must take part in physical activities. For example, clothing brand Björn Borg has set a mandatory weekly workout target for each employee.
The UK lags behind Scandinavian countries where less than 20% of the adult population say they do not exercise.
Why fitness matters
You may be wondering how expecting your employees to exercise during office hours could help you; however, many studies have proven the importance of sport in the workplace.
In fact, according to a Harvard study, for each dollar invested in the promotion of physical activity within the workplace, $4 is saved in medical costs and $3 in absenteeism costs.
Further research conducted by John Hopkins University has proven that 75 minutes of intense exercise each week can reduce absenteeism figures by 4.1 days per year. A UK study by Leeds Metropolitan University also revealed that when employees go to the gym during their working hours, they become more efficient in managing their time.
So, when all things are considered, it may come as no small surprise that being healthier and more efficient at work can result in happier and more motivated employees.
How to increase your team's fitness
After reading this, you must be itching to know how your business can benefit from a fitter and healthier workforce.
To give you a little nudge in the right direction, we've put together a few ideas to promote fitness and wellbeing in the workplace. Don't worry—you won't have to go as far as installing a state-of-the-art gym!
🚲 Get them riding
Encourage employees to ride their bike to work. You could start a cycle to work scheme to help employees purchase a bike.
Only 4% of UK employees cycle to work. Unsurprisingly, given their tendency to use bikes in the capital, the Dutch lead the peloton in Europe with a staggering 46% of the country using their bikes on a daily basis.
🧘 Stretch them a little
The founder of Hootsuite says that he has always encouraged physical activity in his company because he is very conscious of the importance of fitness in the workplace. Before Hootsuite became the multinational business it is today, they had modest fitness installations such as a pull-up bar and used pilates balls instead of regular chairs.
Hootsuite's headquarters now has a gym and shower facilities, and they schedule yoga classes in the morning and at lunchtime.
It's fine to start small if your budget is limited, but there are certainly cost-effective ways to improve the general fitness of your team.
"I would never have been able to remain calm and maintain composure and focus in the midst of chaos without working out every day."
Ryan Holmes, founder of Hootsuite
💪🏼 Start a workout group or running club
At PayFit, a group of employees work out every Wednesday from 8 AM to 9 AM at the athletics track located near our Paris office. Any staff member is welcome to join and each week we see more and more PayFiters come along.
Sometimes it's easier to find motivation as a group. It's also an excellent opportunity to meet new colleagues and forge new friendships.
With our London team being small, we joined a co-working space with free yoga classes and employees receive a discount on local gym memberships.
🏷 Get a discount from your local gym
You might be able to negotiate a corporate discount with your local gym or leisure centre. There are also corporate options with Classpass or Incorpore that give access to different studios and classes for a single fee.
According to a study conducted by Gymlib, 68% of employees say they would work out if their employers covered some of the financial cost.
🕹 It's time to gamify
Discounted gym memberships and cycle to work schemes are great, but they can be limited to the people that they have always appealed to.
You can engage more people by making things simple and personal and can use apps like Fuell to set up team challenges.
Fuell is a challenge-based fitness and wellness app that helps businesses achieve a more active workforce. You can create a positive and encouraging environment for all participants by building your own challenges, joining global ones and rewarding employees.
The best thing about the Fuell app is that it's FREE!
You could set up something as simple as a weekly or monthly league with incentives or prizes for the top three employees with the most steps.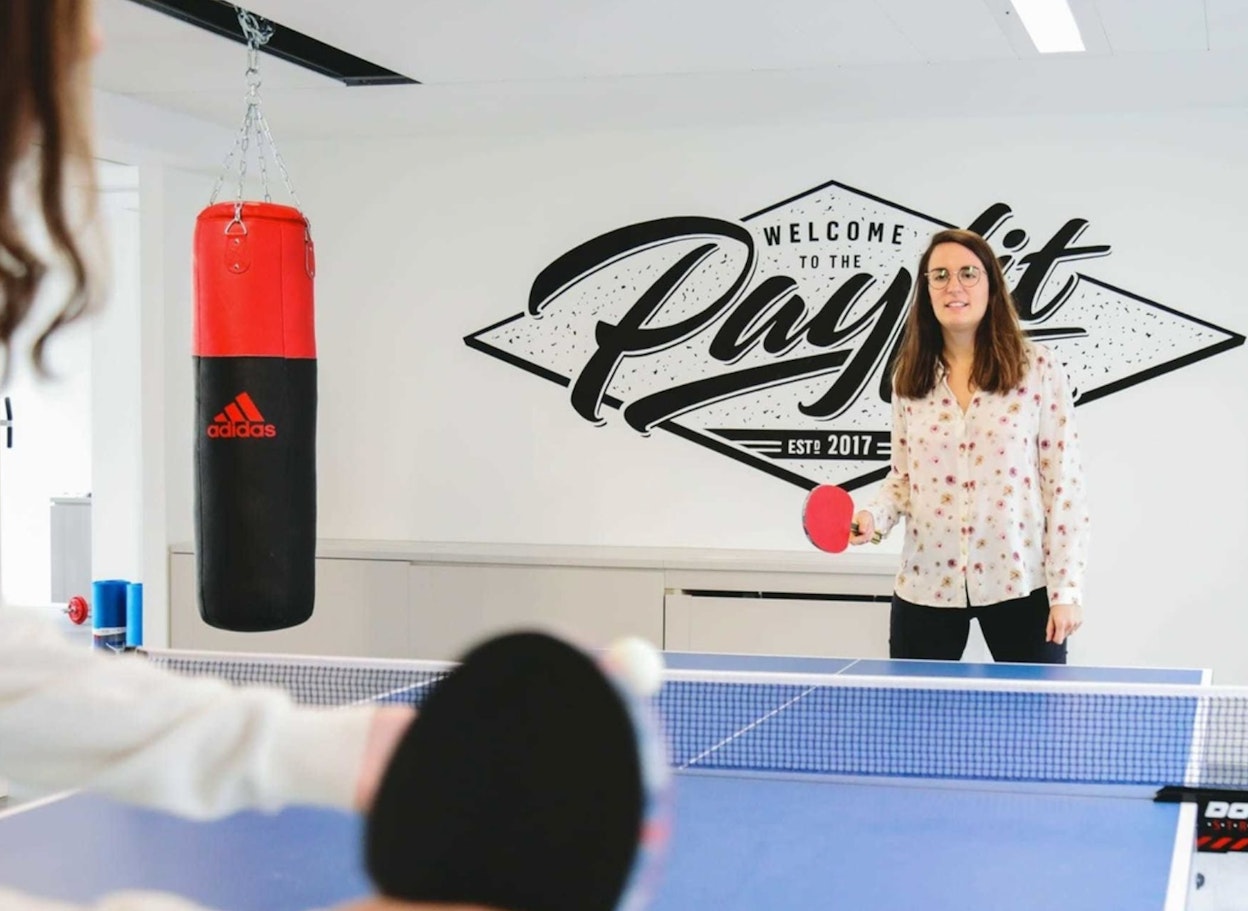 Whatever you do, make it FUN
Here are some quick and easy ways to make fitness fun:
provide a pilates ball to improve posture and reinforce the abdominals;

install a treadmill so employees can walk and work;

organise weekly yoga sessions;

plan an annual sports day;

get a few standing desks so people can work while standing;

buy a table tennis table. It's fun and helps burn calories;

and hold standing meetings! You never know, you may see fewer attendees falling asleep 😉
Whether your business already encourages physical activity in the workplace or is planning to do so, we recommend checking guidance on using the tax system to offer gym memberships and sports facilities to staff.
Providing sport benefits through PayFit!
As of May 2020, the PayFit app now allows customers to offer gym memberships as a benefit to their employees.
Want to find out more about PayFit? Why not book a demo with one of our product specialists today?