Three Ways for Finance and HR Teams to Collaborate

Last updated on 1 November 2022
0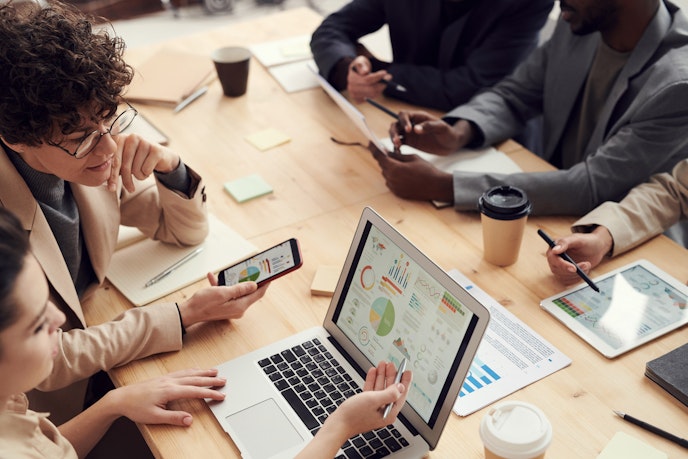 Two heads, they say, are better than one. But unfortunately, it's not uncommon to see different departments operate as separate entities within many organisations today.
The finance and human resource departments are two common examples of such departments. So what business does the team crunching numbers have to do with the one managing people? Well, a lot more than you think.
Human resources and finance may be two different operations. However, these two functions must collaborate for the greater benefit of your organisation.
HR and finance's ability to work together and understand the needs and challenges of each other's role is critical to organisational development and growth.
Let's talk about how finance and HR teams can collaborate and how they can learn to understand one another, finding the overlap between these two business functions. 
Let's dig in.
Why Finance and HR Teams Need to Work Together
We often consider people to be an organisation's greatest asset and the backbone of any company — rightly so.
Without the right people or talent, it'll seem like your company is running on a treadmill — spending a ton of energy (and resources) but heading nowhere.
However, companies have a steep mountain to climb regarding talent hiring and retention. Why? This is due mainly to the never-ending war on talent, labour costs, the Great Resignation, and the rise of remote (or at least hybrid), among others.
Companies need to spend money to overcome these challenges and find the right people. But the finance team isn't just going to hand over cash because HR asked nicely. Instead, the finance team wants to ensure there will be a significant return on investment (ROI) for the cost of hiring, onboarding, and training new employees.
This is where collaboration needs to happen.
When working together, the finance and HR teams can share vital financial data and metrics (like Employee Lifetime Value, turnover by role, and cost per hire) to help the organisation make better decisions. 
Let's now consider some practical ways you can unite your finance and HR teams to achieve business success.
Three Ways Finance and HR Teams Can Collaborate
Here are three ways to make your finance and HR get along nicely.
Build a Robust Employee Compensation Strategy
Although employees might work for an organisation because of its vision or the kind of work they do, there's no denying that pay or compensation plays a significant role in their decision-making.
People want to work where they can earn a fair wage to cater for themselves. 
Think about it: 
Imagine your HR team wants to hire a Senior Analyst position but is only offering £15/hour and expects them to commute into London every day. It might take you a while to fill such a position, and even if you find someone, it won't be long before they start looking elsewhere and move on to a company offering more. 
That takes you back to square one, where you have to start looking for a new candidate all over again. How frustrating!
Aside from the frustration of finding a new candidate, you'll also have to deal with turnover costs and the negative effect such an employee's departure would have on the rest of your workforce.
Having a competitive compensation package in place will help you avoid this kind of issue and boost your company's chances of attracting top talent.
It's important to note that a compensation package is much more than just salaries. It involves building a people-first budget that factors in elements like paid time off (PTO), flexible work schedules, equity stakes and shares, and health and wellness benefits.
Implementing a robust employee compensation strategy can only be possible if the finance and HR teams work together.
psst…Are you wondering how your startup or scaling business can manage its pay? This guide offers some help.
Consider Headcount During FP&A
Recruitment and managing current employees is often considered one of the things companies spend a large chunk of their money on. 
As such, managing spending in that department is crucial to get the most out of your finances which gives rise to another opportunity where the finance and HR teams can unite again.
As the finance team works out the financial planning and analysis (FP&A), they'll also need to involve the HR team and their hiring plans.
So instead of having to do guesswork concerning how many people the company plans to hire, the finance team can hear directly from the horse's mouth. That way, the data they collect is more accurate, leading to a more accurate financial forecast.
The results from the analysis could even help the HR team make hiring decisions. For example, through collaboration, they might discover key hires (say, in the sales or marketing departments) that the company needs to make to improve its financial standing and revenue.
Collaborate to Protect Employee Records
Although data digitalisation has made business operations easier and faster, there's the constant risk of data breaches.
Accenture reports that cyber-attacks (that include data breaches) can cost organisations almost $3 million. Aside from the potential financial loss, data breaches can also cause employees and the general public to lose trust in your organisation.
The potential threat or risk of data breaches opens up another avenue where finance and HR teams can collaborate. These teams must work together to protect vital employee data such as dates of birth, social security numbers (SSN), medical records, salaries, etc.
While members of your HR and finance team might not be cybersecurity experts, you should train them to follow best practices for ensuring the safety of employee data and records.
As these team members follow the best practices, you'll be adding an extra layer of security that safeguards employee records, which can help increase trust within your company.
Promoting the HR and Finance Relationship
Having different departments within your organisation join forces is one sure way to accelerate your company's growth. 
And we've shown you how you can make two essential departments — HR and finance — unite over overlapping interests that can move your company forward. As you improve the relationship between these teams, you can expect favourable results like higher ROI on hires, better retention, and a more engaged and productive workforce.
Work together with PayFit
One software solution you can use to strengthen the relationship between these two teams is PayFit. Since PayFit stores payroll and HR data under the same roof, teams can create custom reports that integrate with other accounting software while remaining compliant.
Want to see how PayFit can help your finance and HR teams collaborate more to improve your business? Book a free demo today to find out.