New Feature in Focus - The PayFit Performance Review Feature

PayFit
Last updated on 21.02.2023
Here at PayFit, we know that clear and regular communication can drastically increase motivation and productivity. Still, only 2 in 10 employees say that their performance is managed in a way that motivates them to do outstanding work. It's essential that the tools you're using to manage and improve performance are intuitive and easy to use for both your managers and your employees. 
To help SMBs overcome these challenges and build intuitive and impactful performance management into their day-to-day processes, we're excited to launch our new Performance Management feature. Our newest feature in our HRIS module, our performance management software makes building, running, and analysing performance campaigns a breeze, all while empowering your teams to stay productive and engaged.
Read on to learn more about how this new addition can help your small business get the best out of its people while streamlining your performance management process.
Create and run customised performance review campaigns in an instant
Just like with all things at PayFit, our performance management software was created to reduce the number of manual processes for your team. Your entire review process can be built and managed within PayFit, making manual processes and spreadsheets a thing of the past. 
Within our performance management module, you have the option to use our pre-built preview templates (including simple performance reviews, agile project reviews, or anonymous leadership reviews) or build your own with our custom assessment builder. 
Once you decide which performance review campaign you'd like to run, all you need to do is determine who will be part of the review campaign, select a campaign timeline, and launch! With built-in tracking and reminders, you can send out invitations, notifications, and reminders to ensure all participants complete their reviews, then keep track of their progress.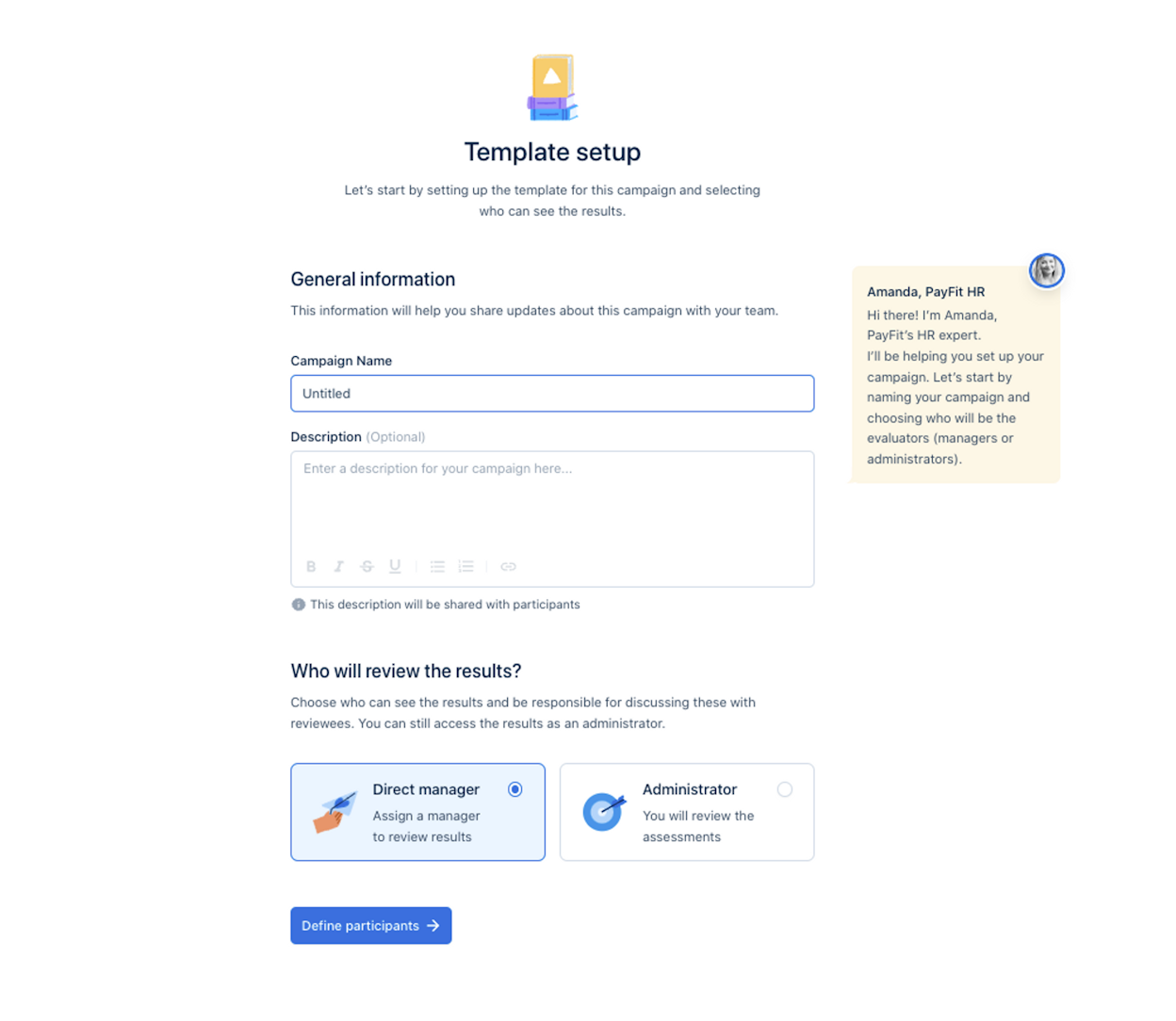 Analyse your review campaign progress
Effective performance management is about ensuring staff complete their reviews on time. PayFit lets you track the progress of your campaigns and get a real-time status overview, helping you understand how things look based on team members or individual questions.

And for further peace of mind, automated notifications and reminders are sent out, ensuring all participants complete their reviews without you having to chase team members yourself.
Well-connected and easily accessible
The beauty of PayFit is that it reduces the number of tools you need to use to do your job brilliantly. With the launch of our performance review module, PayFit lets you bring everything under one roof to massively reduce the stress of negotiating a maze of different platforms.
Our new performance management feature is a continuation of this approach, sitting within our HR module so that all of your employees' HR information is accessible in one place. No double data entry required, and no need for a separate performance management tool as everything can be done from within PayFit.
This ease of use extends to your employees too - employees access and complete their performance reviews from the same portal they use to access their payslips and request leave.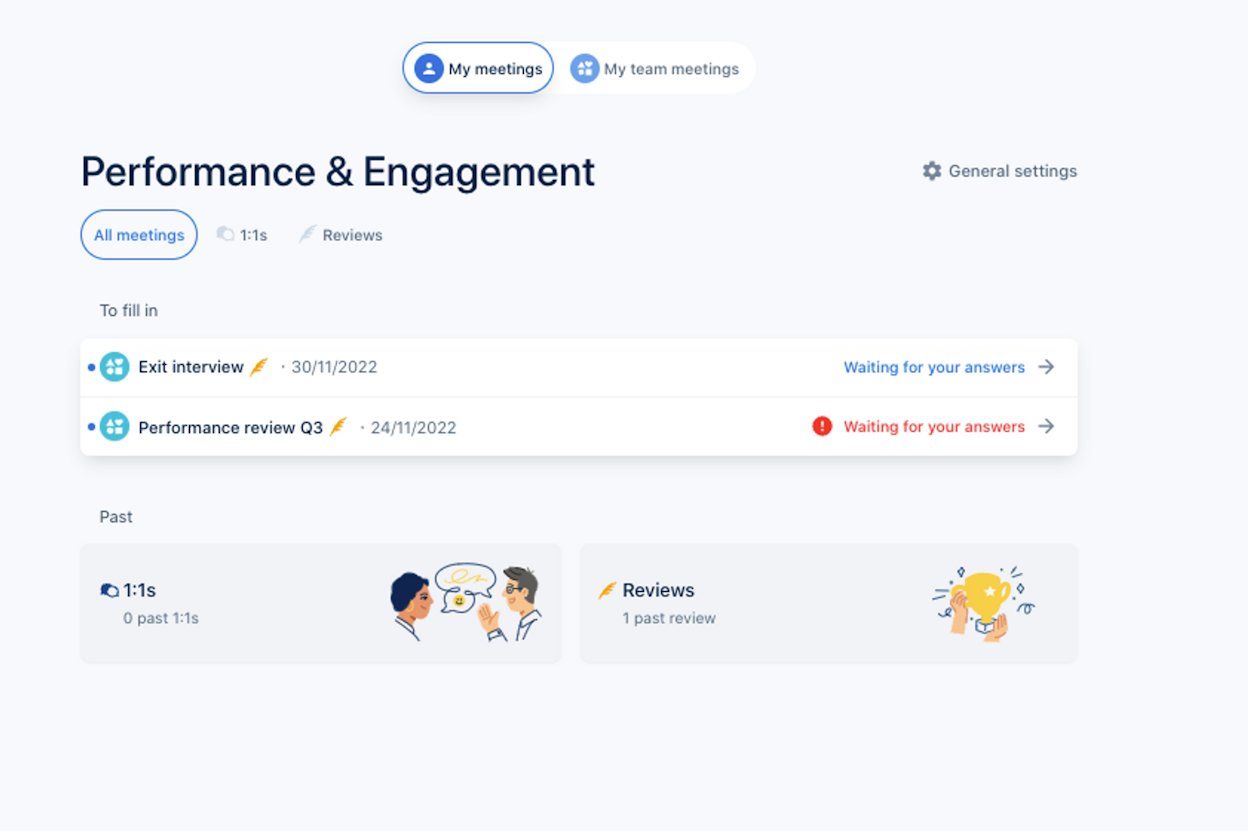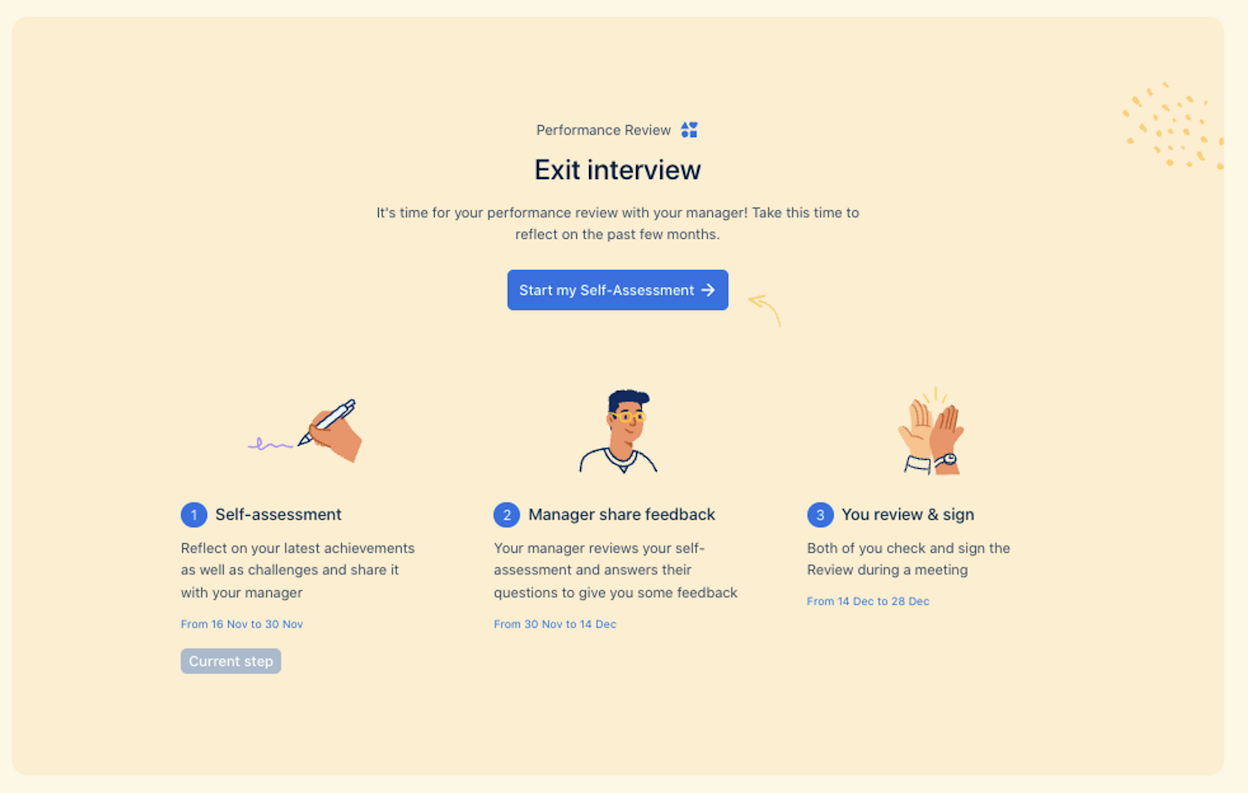 Better, more frequent collaboration
It's good to talk. In a world of flexible working and remote teams, staying connected with your people is more important now than ever. Our new performance management feature helps you to regularly take the pulse of our teams' fulfilment and performance, including a one-to-one feature that allows you to choose the frequency of engagement. Additionally, admins can assign different reviewers for each campaign, enabling feedback across different teams to break down barriers to communication and keep everyone pulling in the same direction.
All of this helps to embed regular performance reviews into your feedback cycle, to ensure trust and transparency is forged between managers and employees.
For more information on our new performance management feature and all of its benefits, visit our feature page. And if you're looking to centralise your HR, performance and payroll in one place, why not have a member of our team show you around PayFit by booking a demo?