How Much Tax Would a Hollywood Star Pay (under PAYE)?

Ahhh, the movies!
They make us laugh, cry and sometimes even fantasise about what life would look like if we were up on the silver screen.
But what about all those movie stars making a pretty penny? How much is an actor likely to earn for all those amazing action sequences, fun antics and emotional highs and lows? And, how much tax is a Hollywood actor likely to pay?
If you're anything like us here at PayFit, these are the questions that run through your mind as you munch on popcorn in a dark cinema.
We'll look at how salaries for top Hollywood A-listers work. But we're not stopping there. We're also going to have a little (theoretical) fun and take a peek at how much tax they would pay if their earnings fell under PAYE in the UK.
But first, a few disclaimers…
Just like the wonderful talent we'll be talking about, our intent is to entertain. So before we get started, we just wanted to put a few disclaimers out there.
Any salaries mentioned in this piece are purely based on information widely available online - actual earnings are likely to vary in real life.

The purpose of this piece isn't to shame any of the parties mentioned! We're a curious bunch here at PayFit - this is us geeking out on how taxes and NICs would work in a  hypothetical situation.

Finally, we've based all our calculations on the assumption that the parties mentioned are paid through the PAYE system here in the UK.
How much does a movie star earn?
It's no secret that salaries for actors can vary widely. 
While the average annual salary of a working actor here in the UK can range from 18K and 45K, earnings can rise as much as 6 or 7 figures for top-billing performers. 
For the purposes of this article, we'll be focusing on the cream of the crop - international A-list stars - both women and men - who command earnings of multiple 7 and 8 figures a year. 
We're talking about the likes of talent like Benedict Cumberbatch, who will reportedly earn $7.5 million upfront for the MCU's latest instalment of Doctor Strange and Jennifer Lawrence, who earned a lofty 25 million for her role in Don't Look Up.
If you think that's a lot, think again. Will Smith is reported to have received $40 million for his oscar-nominated role in King Richard.
Hollywood salary negotiations 101 
But how do salaries in Hollywood actually work?
The answer is pretty complicated.
Unlike an employee on payroll who is paid a weekly or monthly fixed salary, actors are usually paid on a project-by-project basis. They are 'solopreneurs' who are likely to be incorporated and negotiate their pay as an offer or 'quote'. 
In other words, what an actor makes for a specific TV show or movie will largely depend on past salaries they've commanded, previous box office earnings as well as how big of a 'household name' they are.
A salary offer for a movie or TV show will be negotiated between the actor's representation (e.g. an agent) and the production studio. This will include a base quote. In many cases, however, this will also include "deal points". These are a percentage of the movie's 'backend' earnings - that is, the box-office profit pot that accumulates after a film's release.
How much tax does a Hollywood actor pay?
Again, this is a tough one to answer, but let's take a (theoretical) punt. 
The average salary for an actor living in Hollywood, California, USA, falls between $31,691 at the low end and $861,330 at the top end. Actors earning towards the higher end of this scale would need to file under some of the IRS's highest federal tax brackets, where rates range between 32% and 37%. 
Based solely on an IRS tax rate of 32%, we could expect these actors to take home roughly around $131,832 a year. But, of course, this doesn't take into account more local state tax rates, which are likely to apply (California has some of the highest income tax rates in the U.S.).
What about the big household names?
Now, for the fun bit. Let's take a look at some of Hollywood's top billing A-listers and how their earnings would be taxed (hypothetically) under the UK's very own PAYE system…
Sandra Bullock is consistently one of the highest-earning actresses in Hollywood. The Blind Side and Bird Box actress is the recipient of multiple awards. She is reported to have recently taken home a cool 20 million US dollars (roughly 15 million pounds sterling) for her recent role in The Lost City of D.
If we take these figures into account, we can break down her annual, monthly and weekly take-home pay as follows.
*Daily rate is based on 260 working days per annum (five-day working week).
Someone on this salary would not receive a Personal Allowance due to tapering of earnings over £100,000.00. Personal Allowance is reduced by £1 for every £1 above this threshold.
When it comes to male actors, one actor dominates the highest-earner lists time and time again. From his days as a pro wrestler to his time in the Fast and the Furious franchise, Dwayne 'The Rock' Johnson has carved out a riveting career. 
With films grossing over 10.5 billion worldwide, Johnson's recent action flick The Red One earned him a $50 million (roughly £38 million) payday. Here's how Johnson's take-home pay would break down under PAYE for this project:
*Daily rate is based on 260 working days per annum (five-day working week).
Someone on this salary would not receive a Personal Allowance due to tapering of earnings over £100,000.00. Personal Allowance is reduced by £1 for every £1 above this threshold.
If you think those figures are jaw-dropping, take a deep breath (and a fistful of popcorn). While 'The Rock' has been a consistent high earner, another influential household has recently risen to the top… 
None other than 007 himself, Daniel Craig.
That's right. Craig's recent $100 million (£76 million) deal for Netflix's sequels to Knives Out means the International Man of Mystery is now one of the highest-earning actors in the world.
His rise to fame playing secret agent James Bond has clearly solidified him as Hollywood royalty, and that seems to have paid off.
To the tune of a cool (shaken, not stirred) £76 million a year, let's see what Daniel's Knives Out take-home earnings would look like on one of PayFit's payslips:
The employee number? Why, 007 of course…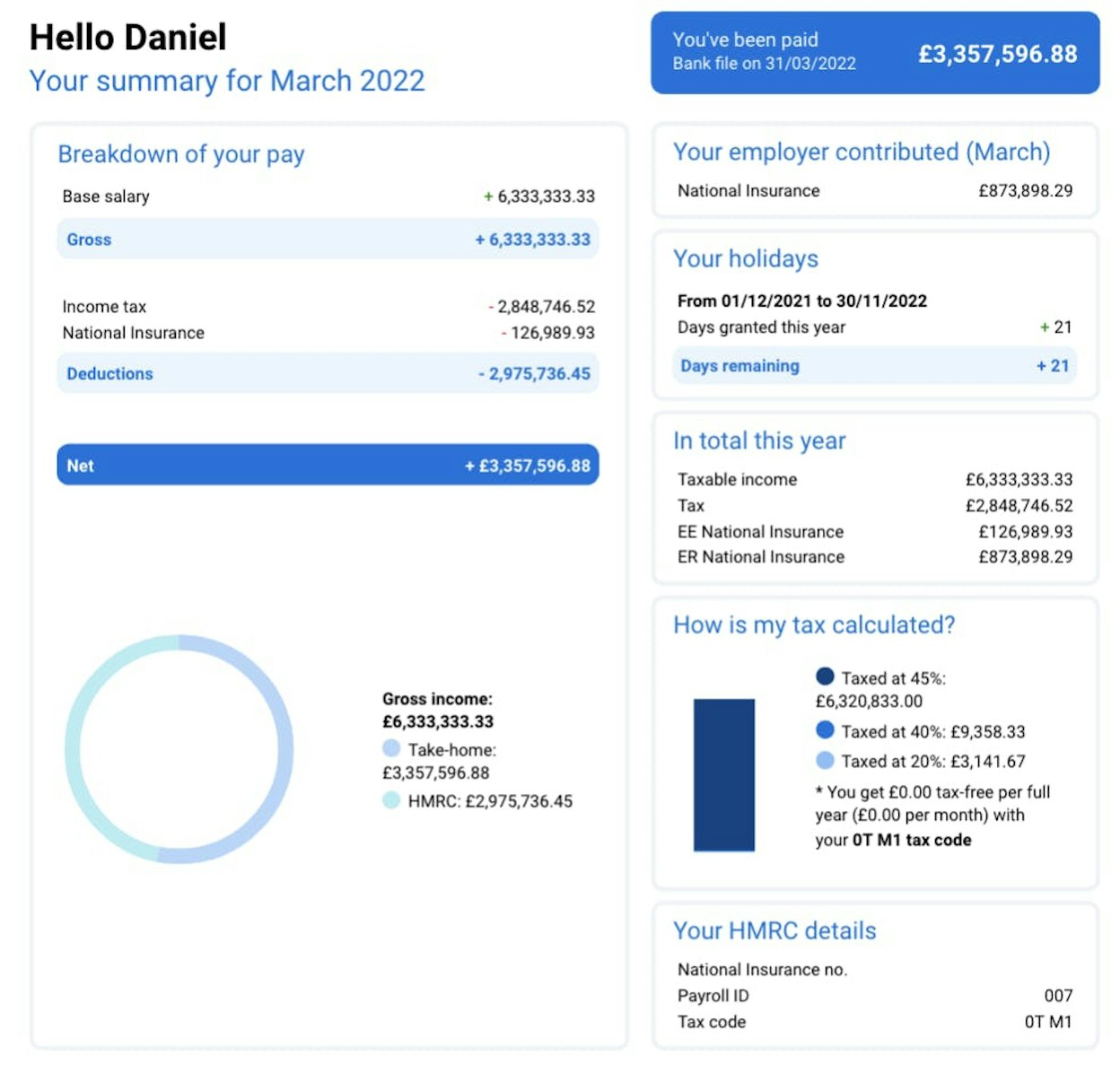 So there you have it - that's how much tax we could expect a movie star to pay under the PAYE system.
Football mad instead? Then you might be interested to find out how much tax a Premier League footballer pays.  
Make payroll easy with PayFit
Imagine if you could run your entire payroll process in just a few minutes and clicks? 
PayFit is a payroll platform for SMBs looking to save time and money. Our cloud-based solution combines the control of in-house software with the dedicated support of outsourced payroll experts. The result? Less time lost on manual tasks and more time for the important things.