A study of management styles - David Brent vs Sir Alex Ferguson

Last updated on 9 January 2020
0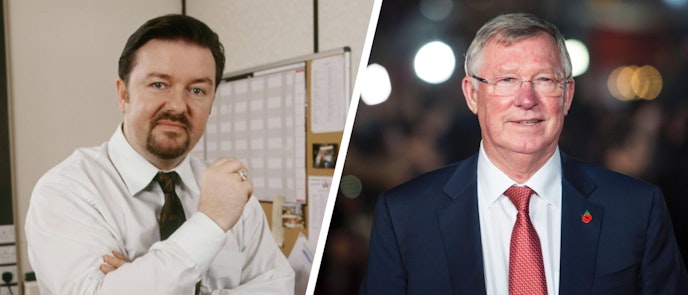 Now, here's a bit of an odd one. How do you compare two managers from two different walks of life against each other?
It gets even more complicated actually. How do you compare two managers from two different walks of life against each other when one of them is fictional?
Basically, you can't and it's almost certainly a futile task.
Nevertheless, we at PayFit thought it would be a bit of a laugh to compare David Brent, one of Britain's most infamously unsuccessful managers and the inventor of the managerial concept titled "team individuality", versus Sir Alex Ferguson—an authoritarian, disciplinarian and arguably the greatest football manager of all time.
So, maybe you should just sit down, and enjoy this really rather odd and vaguely intellectual analysis of two VERY different managers.
Introduction
David Brent is the manager of Wernham Hogg's Slough branch. How he got there is anyone's guess.
Sir Alex Ferguson shouldn't really need an introduction; after all, he is the most successful manager in British football history. He helped to revolutionise British football and was at the forefront of the commercialisation of the sport on a global scale.
But before we delve deeper into these two complex characters, it's vital that we understand the concept of management, what it is, and perhaps most crucially, what it means.
What is management?
Merriam Webster defines management as:
"the act or art of managing: the conducting or supervising of something (such as a business)".
The word "art" is of real importance in this context. Art suggests that management requires a particular set of skills. While management itself is a somewhat ambiguous term, there can be little doubt that some are better suited to it than others.
But how can this be the case? Aren't we all born with the innate ability to learn and develop?
The proverb "born to lead" is often nonchalantly thrown about and it's a phrase that is as vague as it is profound. Exploring it too thoroughly is probably not worthwhile; after all, the idea of leadership and the traits associated with it surely point towards more of a collection learned of experiences?
Perhaps this last point is true. However, there's enough evidence out there to suggest that some people are instinctively drawn to positions of responsibility and authority.
Brent vs Sir Alex Ferguson
David Brent became manager of Wernham Hogg's Slough branch because he had several years' experience in the paper industry.
Sir Alex Ferguson became a brilliant football manager because of the career he had in football.
There is evidence, tangible in the case of Sir Alex, and alluded to with Brent, that both were successful in their respective fields. Therefore, both received opportunities to forge careers in management because they had honed certain skills over several years.
Getting there is one thing, but being successful is another matter altogether. Unfortunately, there's no acid test that definitely determines whether someone will be successful in a role. Instead, it's only when someone gets the nod to manage, and only then, that their ability to lead and inspire becomes apparent.
This leads us aptly on to the Peter Principle.
This fascinating theory looks to explore the concept of management failures. Developed by Laurence J. Peter, it stipulates that "in a hierarchy, every employee tends to rise to their level of incompetence".
So is that the difference between Brent and Sir Alex? Did Brent go as far up the hierarchical ladder that he could and is this why Sir Alex seemed to prosper with every upgrade in job or challenge?
It's probably not as simple as that, but I would suggest that the reason Ferguson was able to impress consistently was down to his ability to move with the times.
In contrast, Brent was incapable of adapting to new situations and, perhaps most crucially, personalities.
Brent's personal level of incompetence reached its crescendo the moment he had to incorporate members of the Swindon branch in his Slough team.
Up until that point, he demonstrated little in terms of managerial nous; however, the responsibilities he had and the work he was required to do was just about manageable.
Adaptability
Ferguson's biggest strength was his ability to adapt and reconstruct his team.
Throughout his tenure at Manchester United, he faced numerous challenges. Initially, he vowed to knock Liverpool "off their perch". Once he did this, he had to fight off the challenge of moneybags Blackburn Rovers under the ownership of Jack Walker. He did this too.
Then came perhaps his biggest challenge; the emergence of Arsène Wenger at Arsenal. After initially struggling, Ferguson managed to reinvent his team. Wenger was cast to the shadows.
Chelsea were next and had money too after being bought by a Russian oligarch. Ferguson's United would again initially suffer before returning as the dominant force.
He faced one more mighty challenge before retiring: the noisy neighbours from the blue side of Manchester. Despite relinquishing control for a time, Ferguson found a way to once again defeat his opponent.
His longevity owed much to his ability to adapt. The fact that he saw off so many challenges is also a testament to how he learnt from past errors.
Ferguson's success demonstrates the importance of adaptability. Being idle and not adjusting to new conditions or situations means that progress is nearly always limited.
In the case of David Brent, he simply stood still. Despite professing that "if we're facing in the right direction, all we have to do is keep on walking", Brent was unable to realise that he was walking, or rather stumbling, down the wrong path.
Goals
Ferguson and United had goals. They also scored a fair few. On the other hand, David Brent was a master of scoring the proverbial own goal.
Brent's principal problem was that he found it impossible to distinguish between popularity and respect. He believed, perhaps genuinely, that the way to achieve respect was through popularity, and not vice versa.
Ultimately, this meant that his goals were always skewed. How can a serious boss want to be seen as "a friend first, boss second, probably entertainer third"? This brief journey into Brent's psyche revealed what many of us suspected all along: management was never his priority and, because of that, he was always likely to fail.
Brent's management style was more of a reflection of the way that he would have wanted to be managed himself. He would have loved to have been able to share a laugh with his bosses and he genuinely believed that his approach to management would gain him admiration and respect from those who worked under him.
The sad part of the whole situation was that all Brent really craved was popularity. Unfortunately, popularity and management are two things that are often mutually exclusive.
This was Brent's Achilles' heel. His laissez-faire management style meant that he was unable to inspire his team beyond achieving the bare minimum. Ultimately, this inability to adapt to new conditions, situations and personalities cost him his job.
In contrast, Ferguson was an excellent communicator, a brilliant motivator and a fierce competitor. He understood his staff and he could tell when a player needed an arm around their shoulder. Equally, he knew when someone was becoming a disruptive influence on the rest of the team and he was never afraid to act upon it.
He did this on a number of occasions—just ask the likes of Paul Ince, Jaap Stam, David Beckham, Ruud van Nistelrooy and, perhaps most famously, Roy Keane.
If Sir Alex thought that someone had become too big for their boots or that they were causing unnecessary hassle, then they were off out the door. There was little room for sentiment when making decisions.
This is an enviable quality to have. Being able to identify problems, not being afraid to act upon them, while also maintaining support and morale is an almost impossible mix. Very few achieve it.
Ferguson managed to because he always knew what was most important. Friendship was never going to win him a trophy, but respect and authority always gave him half a chance.
It was precisely the fact that he never allowed his players to get away with anything less than 100% that meant he bred a winning climate built on high standards and principles.
Conclusion
Okay, we're probably very much into Fergie Time now and I feel that we've comprehensively proved that David Brent was an inferior manager to Sir Alex.
Did we need a whole essay to do it? Probably not.
But beyond the clearly facetious premise of this piece, it is important that we identify the two main takeaways.
Management is an art. We can all attempt it and some of us may even be successful initially. Ultimately though, prospering in a managerial position is dependent on a person's ability to develop within a role. Some can and some can't, and it is usually this that separates the wheat from the chaff.

Understanding your priorities is key. Being respected is not the same as being liked. So, if you are going to be a manager, you must be able to separate your managerial responsibilities from your personal aspirations.
PayFit & Management
PayFit is a payroll and HR provider that was founded in Paris by three friends in 2016. Since then, it's grown to over 550 employees and serves well over 5,000 SMEs across Europe.
PayFit's approach to management is fairly novel. We don't believe in seniority or experience—in fact, the average age of a manager at PayFit is just 30 years old. Consequently, if we feel that someone has the right traits and demonstrates leadership, they will meet the relevant criteria for a managerial position regardless of their age or experience.
We also believe in supporting managers with training. We are conscious of the fact that a lot of the people in management positions have never previously managed. As a result, new managers are sent on leadership training courses to ensure that they have the best possible chance of being successful in their role.