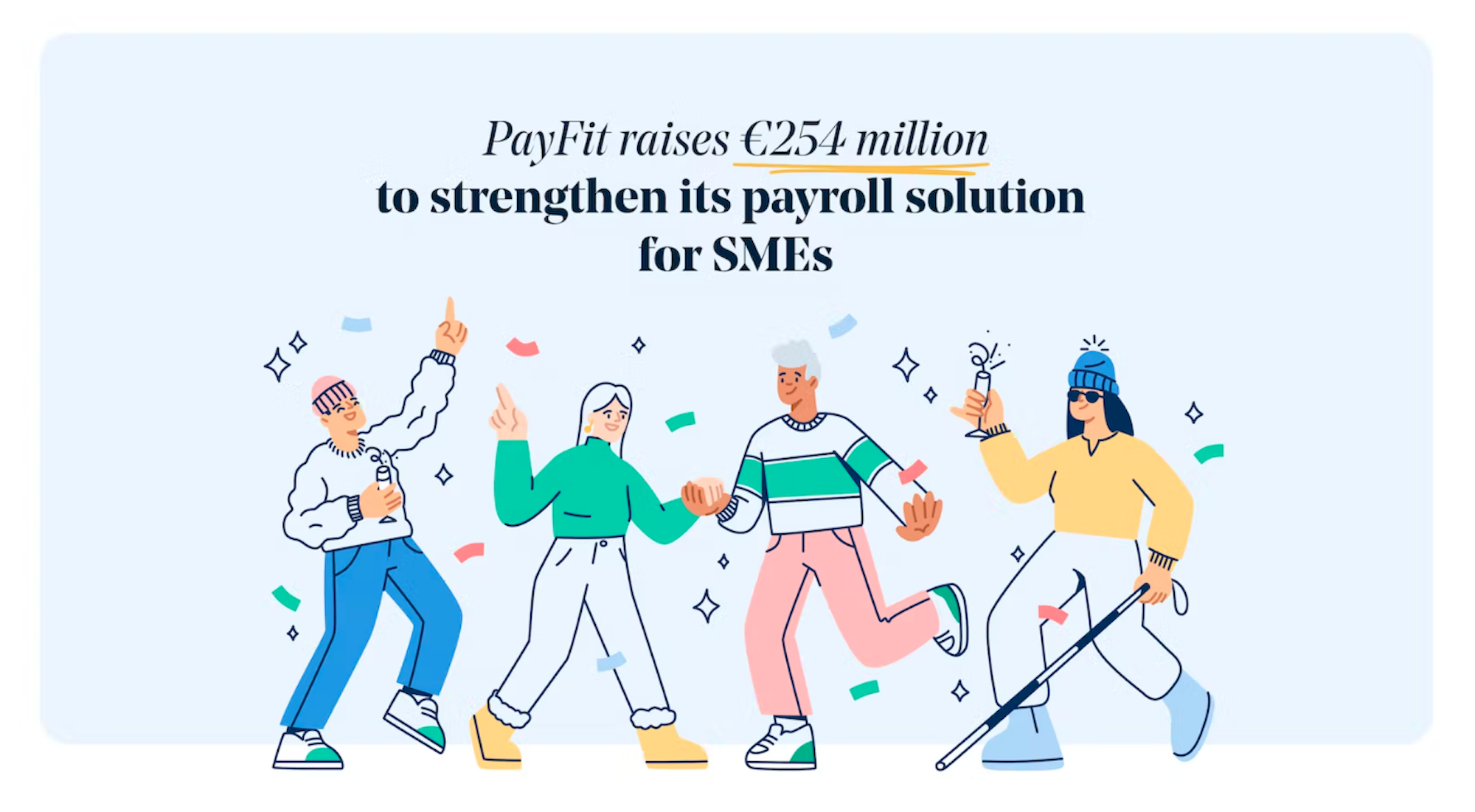 PayFit raises €254 million to strengthen its payroll solution for SMEs
PayFit raises €254M to strengthen its payroll solution for SMEs
Today we announced that we have raised €254 million (£216M) in a Series E funding round, a record-breaking amount for a French HR tech. This round now makes us a unicorn with a valuation of €1.82 billion.
General Atlantic, a leading global growth equity firm, led the round, with participation from our existing investors Eurazeo, Bpifrance and Accel Ventures.
We've got big goals for 2022 and the funds secured will help us to recruit 400 additional talents, accelerate the development of our payroll & HR software, improve our customer service and increase our market share across Europe.
PayFit's expansion beyond France into the UK, Spain and Germany demonstrated further validation of our innovative offering and our capacity to scale up. As we look ahead, we plan to use these new funds to deepen our presence in our existing markets, where we have significant growth potential. At PayFit, we are proud to have built a company with strong foundations, where people are happy to work and that can have a real impact on our clients. This Series E funding will allow us to maintain the rapid growth we have achieved since our founding.
Firmin Zocchetto
CEO and co-founder of PayFit
Our mission is to simplify payroll and HR management, which has become even more important in the context of the COVID-19 pandemic and the many complexities it has introduced for businesses in managing human capital. We provide a leading next-gen payroll solution that automates complex and time-intensive HR processes, particularly for underserved small and medium-sized businesses. Our platform enables HR managers, finance managers, and business owners to easily conduct payroll calculations and streamline payroll & HR processes.
PayFit has built an innovative and disruptive product supporting the payroll and HR management needs of SMBs across Europe. We see great opportunities ahead for the company as it extends its product offering and continues to capture market share in France and across Europe. We are delighted to support PayFit and its management team in this next chapter of growth.
Chris Caulkin
Managing director and head of technology for EMEA at General Atlantic
PayFit marks General Atlantic's seventh investment in France's technology ecosystem over the last five years, a region in which the firm has strong conviction.
Since our founding in 2015, PayFit has gained over 6,000 clients and has raised €179M to date, prior to this funding round. Our €90M Series D funding round, which closed in March 2021, supported the company in the continued innovation of our current product suite and hiring of 300 new employees, reinforcing our leadership in the European HR tech sector. We now plan to scale from more than 700 current employees to over 1,000 within the next 12 months. The expansion of the PayFit team has included key senior leadership hires across critical business functions spanning technology, finance, operations, and more.
It's been fantastic to see Firmin, Florian and Ghislain scale the team from just 40 employees and 60 customers back in 2017 when we led their Series A to a team of more than 700 employees, operating across four European countries and supporting more than 6,000 customers, Payfit's unique and flexible cloud architecture has enabled it to quickly address the core HR and payroll needs of the large underserved European SMB market and I can't wait to see what the team will achieve with this new financing.
Philippe Botteri
Partner at Accel
We will leverage the proceeds from our Series E round to deepen our penetration in existing markets, invest in our core automated payroll software, and continue to expand our SME-tailored solution across HR management.
---