Company culture
The PayFit adventure
Implementing company behaviours at PayFit

PayFit
Last updated on 5.09.2023
Exploring the Introduction of 'Behaviours': Reasons for Their Launch
A few years back, PayFit developed its 4 company values thanks to the huge involvement of its founders; and with the participation of many PayFiters in different departments and countries.
Today these key 4 values - Care, Passion, Humility and Excellence -  are not only very well known, but also embodied and embraced by all PayFiters. They are undoubtedly the driving force of the culture we have been crafting these past years for our PayFiters.
In the first semester of 2023, PayFit has decided to go one step further in order to best embrace our ways of working. Indeed, behaviours serve as a powerful tool to align individuals and elevate collective performance. They also help create a shared culture and identity within the company in order to foster collaboration, trust and mutual respect among colleagues.
Values and behaviours work hand in hand. Values represent our beliefs and shape our identity, while behaviours provide actionable guidance. By embracing both, we create an aligned, collaborative and efficient work environment. PayFiters, by adhering to our values and embodying our behaviours, contribute to this positive workplace culture.
They provide a framework for consistent and desired actions and ways of working across the organisation.
So what are these 6 Behaviours?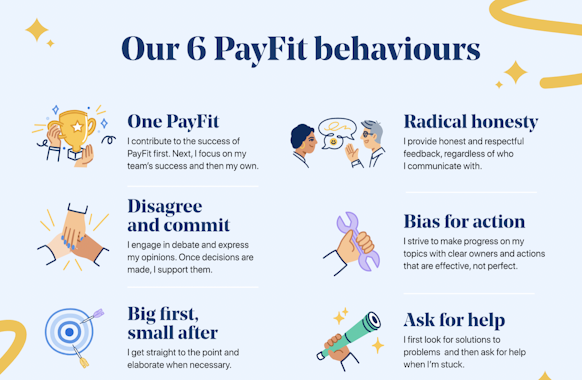 How were they developed and put into place at company level?
Creating these behaviours was not something done overnight.
The starting point was the appointment of PayFiters from different departments for the core team - 13 to be precise. These representatives helped in identifying the current practices that might block efficient collaboration and ways of working that were impacting productivity.
The practices that were identified were clustered and emerging themes were identified. Based on these themes, the team crafted solutions and iterated. Among other approaches, they discussed case studies to test the applicability of the drafted solutions. Founders and members of the Executive Committee were embarked in the journey and were key sponsors in the project rollout. Having all the key company leaders onboarded through dedicated training sessions helped us to guarantee everyone understood the Why behind this transformational project, and ensured that we were all working towards a common goal.
We communicated globally on the project through different channels. For example, PayFiters received a virtual ticket as a teaser to the event that was coming up: the "Culture Days", a dedicated two days company-wide event, which allowed us to gather everyone in the company through hybrid formats. The behaviours were launched and PayFiters had a first chance to discover and discuss them through inspirational sessions with external leaders, team workshops or cross-department discussions.
Of course the journey did not, and still does not stop here. It is now vital to continue instilling the importance of these behaviours in accompanying PayFiters in this company transformation journey. PayFit continues to provide guidance, content and training thanks to our focus months,  to ease up the adoption, bring these behaviours to life and ensure the best possible working experience for all PayFiters to thrive and excel daily. 
---
PayFit
Last updated on 5.09.2023